Looking for the best wall mount PC cases for 2022? Thermaltake Core P3 ATX, based on experience, is one of the best wall mountable PC cases on the market. However, why should you go for a wall mountable PC cases?
The habit of installing a computer case on a desk is becoming obsolete as more users prefer to have a freer desk space. Going for a wall-mounted PC can help shelter your PC components from dirt and create more air space for them to function. Yes, most wall-mounted PCs are always elegant, offering your workstation a superb aesthetic.
The Core P3 White Edition, as pointed out previously, is a high quality wall mount PC case for gamers and other computer users as it can support large ATX motherboards, resulting in improved PC performance. It also comes with everything you'll need to mount the PC case to the wall. Aside from that, there are a slew of other cool alternatives to consider in terms of panel, airflow, cooling system, size, dust protection, among many other features to consider when purchasing a PC case in 2022.
You've come to the right place if you're seeking the best wall mount PC cases for 2022. We'll guide you on how to install a PC case and go through our top picks for wall-mountable PC cases.
How to wall mount a PC case
Many individuals are afraid about their PCs collapsing on their monitor if they install them on the wall and this is the only downside of wall-mounted PC cases. You can only face this issue in instances when your PC is not properly wall-mounted. 
To be honest, wall mounting a PC case can be a little challenging especially when it's custom made, but as long as you follow the instructions on how to wall mount a PC, you'll be OK.
In the case of Thermaltake's P series and other ones, the cases are designed to be wall-mountable, so you don't have to worry about figuring out how to mount them; all you have to do is follow the instructions.
And if you don't want to buy a case that is premade with a hanger because you want to save money, you can always design a bespoke PC case for yourself. To create your custom PC case, all you have to do is lay out your procedures and carefully follow the plans. You can also consider the following tips: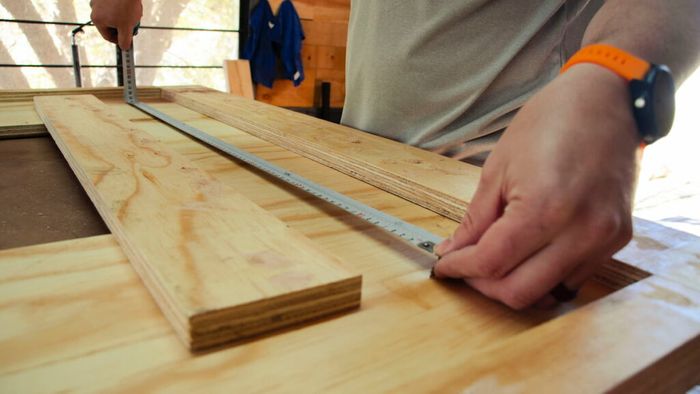 Choose a base material for the PC case which can either be steel, plastic, or even wood.

Make sure the base material is strong enough to carry the components.
Design the PC layout to know how you are going to arrange your hardware components

and mount the PC

And then plan the cord management.
Can you wall mount any PC
Whether your PC is built wall-mountable or not, you can easily buy a premade third-party case holder or build one yourself. So the most technical answer to this question is yes.
What are the top 5 best Wall Mountable PC Cases?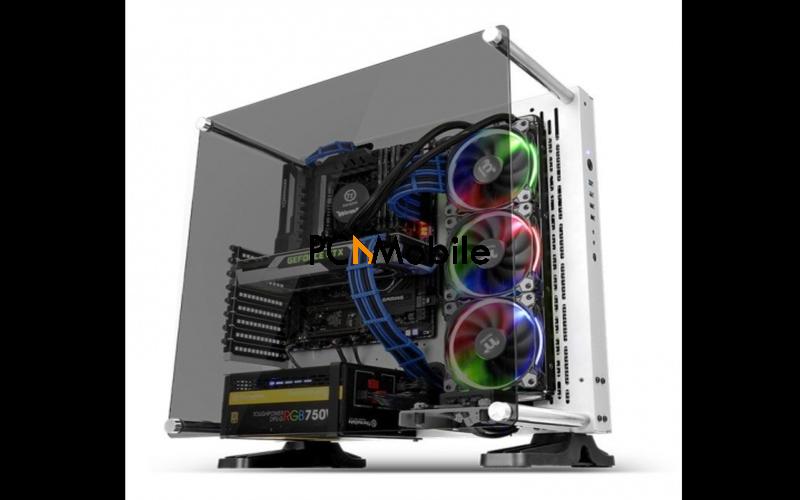 The Thermaltake brand is known for producing excellent computer cases. Thermaltake Core P3 ATX is one of the greatest wall mountable PC cases they've made, featuring several impressive features.
The PC case has an open frame chassis with a tempered glass front panel that allows you to see your PC components clearly. The case chassis is pre-built with a dual GPU and PSU layout, which may be used or uninstalled at the user's discretion.
Furthermore, because the Thermaltake core P3 case is designed as a 3-way stand, installation flexibility is possible. The exquisite appearance of these PC cases is another feature that sets them apart from the competition.
Advantages
It's a very versatile case.

It is highly flexible in terms of installation.

It has a modular design that makes it easy for you to customize your wall-mounted PC.

It is a standard ATX case that finds

compatibility with any motherboard.

It has excellent hardware and water cooling support.
Disadvantages
Its PCle riser is faulty.
It proves almost impossible to assemble.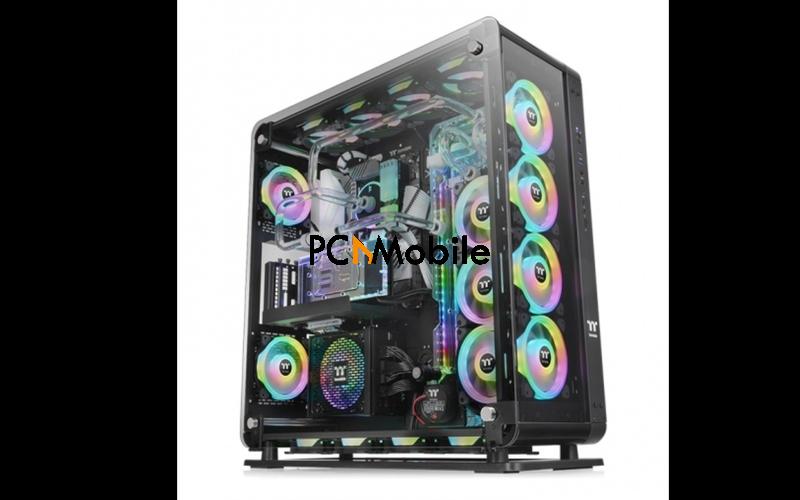 The Thermaltake Core P8 is a great wall-mountable PC case with a several interesting features. It features a layout that is nearly identical to Core P3, but the P3's fineness is the most notable distinction. The case has curved edges and a modular design, giving it a contemporary appearance. It also has a PCI-e slot that rotates.
Like the Core P3, the PC case can be mounted horizontally, vertically, or wall-mounted. When it comes to space, the Thermaltake Core P8 is the ideal option. It's an E-ATX PC case, which means it's quite large enough and can easily accommodate all of the computer's components. It can also accommodate a 120mm or 140mm fan and has enough room for high-end PC components.
If by chance, you find the Core P3 difficult or inconvenient. The sumptuous marvels of the high-end Thermaltake Core P8 might be explored.
Advantages 
It takes the

modular design to an extensive and more operative level.
It is an E-ATX, a massive case.
It has an elegant and stunning design.
Disadvantages
It is enormously large.

Given its size

, it is quite expensive.
---
The Thermaltake Core P1 can be a good choice if you need a small PC case. Due to its convenient size and transparent chassis, the PC case uses Mini-ITXs and has proven to be one of the most functional wall-mountable PC cases. The Thermal Fake Core P1 has a versatile placement design and can accommodate all of the newest PC hardware.
The Thermaltake Core P1 has a similar structure and architecture to the Thermaltake Core P3, but the PC case measures 16.6 inches long and 15 inches wide. Smaller PCs, such as this one, are always extremely good when installed. Another advantage of this PC case is its ease of installation. Furthermore, you will not have to spend a lot of money because it is inexpensive.
Advantages
It allows you to insert any graphics card without concerns about the dimension.
It also is modular enough.
Excellent water cooling support.
Disadvantages 
Due to its minimal size, it can be difficult to assemble.
---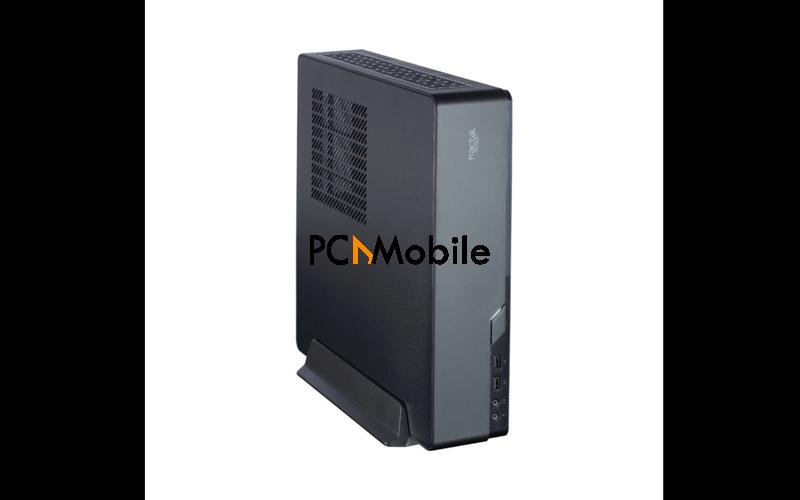 Finally, Thermaltake did not take this position. The Fractal Design Node 202 is ideal for building a portable computer. This PC case is quite stylish and also a Mini-ITX version, so it only takes up a little amount of room when installed. The Node 202 has an efficient thermal internal design as well as air filters to keep dust out. Though it can't accommodate many components, yet, it's well built for those it can take.
It's important to note that the Fractal Design Node 202 is not pre-assembled for wall mounting, therefore it will require additional components. However, as long as you can get a third-party case holder, the PC case is very easy to install on the wall, which is why it is considered one of the best wall mountable PC cases.
Advantages
It is very affordable

It is of a minimalist design

It doesn't take up much space
Disadvantages
.
It lacks the standard VESA mounting holes.
It has a restricted option in terms of graphics 
---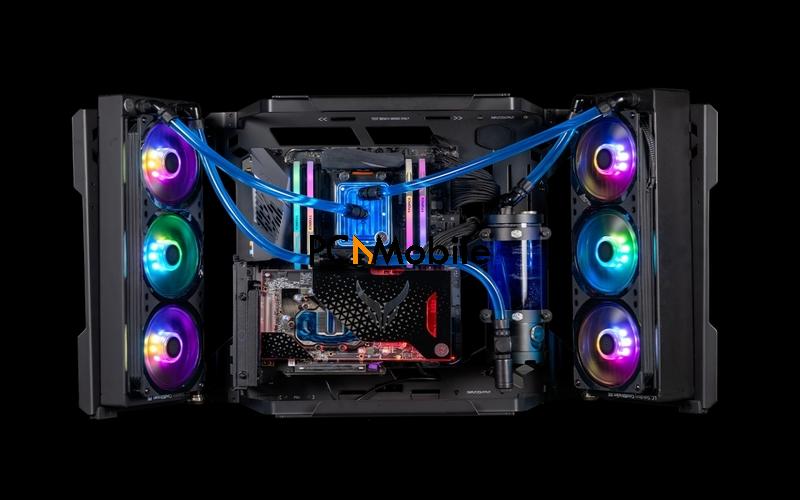 This is a standard ATX case that is primarily used for industrial settings. The Cooler MasterFrame 700 PC case is extremely customizable and features an open air chassis. Thanks to its four specifically designed hinges, this case is exceptionally sturdy.
When customized as a showcase PC chassis, the Cooler MasterFrame 700 case can easily present its well-designed hardware components arrangement through its tempered glass. You can also utilize the case as a test bench, which will come in very handy when overclocking.
The casing is spacious enough to accommodate oversized components with ease. There's enough area for SSI-EEB motherboards, numerous power supply, and cooling fans. The case will also offer space for triple-slot GPUs and other components.
Advantages
It has sturdy panels

Has cool design

Has an excellent cooling support
Disadvantages
It is extremely large 

It is heavy
---
Final Words
When it comes to enhancing your workspace and keeping your desk from becoming packed with more components, a wall-mounted PC case is a great option to consider. Any of the recommended cases will perform well and look good on your workspace, depending on your preferences.
FAQs: Best wall-mountable PC cases
What is the best wall mountable PC case in 2022 for gamers?
If you are looking for the best wall mountable gaming PC case, these are some options you could try out:
Cooler MasterFrame 700
Vivo Universal PC Wall Mount 
thermal take Core P3
Is building a PC hard? 
Building a PC is technically challenging, but not impossible. Getting the components and putting them together does require some experience, but it's not difficult to learn or better still follow a guide. You can make mistakes, but that will only help you improve.
Is airflow important in PC?
Yes, airflow is very important in PC. Some of our computer components disperse heat when being used which hence leads to a rise in the temperature of the PC. And when a computer begins to overheat in situations like this, its performance suffers.