Going to the cinemas can be exhausting. If you're a couch potato, the idea of being in a crowded space just to see a movie doesn't sound exciting compared to doing it alone at home. The best thing to do would be to buy your own home theater and recreate the experience.
But with portable 4K monitors and full HD TVs dominating the market, it's understandable that you'd feel pressured to spend money. But a budget under $1,000 can fetch you a decent projector with great contrast and color accuracy. The best part is you modify the resolutions to improve image quality and fit your preferences.
We've researched the best budget projectors for home theaters in 2022. Our picks are based on compatibility requirements for home theaters (both wireless and cable).  Keep reading this post to find the projector best suited for you.
Factors to consider before buying a projector
Brightness
Projector brightness is measured in lumens and there are two major factors that determine how much you need; size and ambience. 
The larger the size of the screen you have, the more brightness you'll need. In this case, you should target projectors with higher lumens. As for the ambient light, it refers to the existing light in the room before additional lighting is added. For example, sunlight passing through your windows.
Typically, if your living room has too much lighting already, you'll need an equally bright projector so that the ambient light doesn't overshadow images and affect quality. But the recommended brightness is 1,500 to 3000 lumens for home theaters. As long as you can control your ambient lighting, you should be able to avoid distortions.
Contrast ratio
The contrast ratio shows the relationship between the blackest and whitest parts of your projections. It's what determines the sharpness of videos and images. 
If your projector has a 4000:1 contrast ratio, it means the white parts will be 4000 times brighter than the black parts of your projections. The higher the ratio, the better image quality is going to be. 
But if the ratio is lower, then you'll need to make your room darker. This way, the darker parts of the projection can stand out for better contrast. Basically, projector contrast and brightness go hand-in-hand. 
Throw distance & ratio
The throw distance means the space between the projector and the spot where the projection is. The ratio refers to both the throw distance and the width of the projected image. 
Both factors tell you how far your projector needs to be to display certain image sizes for good viewing experiences. Here's a short guide to help you calculate optimal throw ratios.
Light source 
The most common light sources for projectors are lamp, laser and LED. 
Most small projectors use LED lights because their brightness is below 100 lumens and reaches 2,000. So they're generally designed to get more brightness from light-emitting diodes (LEDs). But since the recommended brightness for home theater projectors is 1,000 lumens or brighter, you should be able to watch movies clearly.
The lamp is the oldest light source in projectors. It needs vaporized mercury to deliver brightness. Because of the pressure inside the lamps, they're more likely to explode. This means more maintenance and high costs of replacements. On the bright side, you can get 5,000 to 10,000 hours of use. We recommend getting a lamp projector for light viewing needs like a movie night once in a while.
Laser projectors offer color accuracy and perform smoothly at the brightest levels than LED and Lamp projectors. They also last longer, giving you a total of 20,000 to 30,000 hours of entertainment. Most laser projectors are also maintenance-free, so you shouldn't expect to fix or change parts of the projector frequently. 
Resolution
Modern home theater projectors commonly use the Wide XGA (1280 x 800) and HD (1920 x 1080).  HD resolutions carry 2,073,600 pixels, whole Wide XGA resolutions have 1,024,000. This means the HD resolution is superior in this case, and better for visual quality. 
But before choosing the projector with superior quality, ensure that it matches the native resolution of your input device. For example, if you're projecting from your PlayStation or Xbox 360 consoles with 1080p, then you should use a projector with the HD resolution. If you should use a Wide XGA projector, then the device may reduce the image quality slightly. 
Overview of the 7 Best Budget Projector for Home Theater
1. Best value projector: Optoma HD146X
2. Best for small spaces: BenQ TH671ST
3. Best portable projector: Anker Nebula Capsule
4. Best for gaming: BenQ X1300i
5. Best for iPhone & Android: TopVision T21
6. Best sound: ViewSonic M1 Plus
7. Best for 4K resolution: AAXA 4K1 LED
7 Best Budget Projector for Home Theater 2022
Note: Inexpensive projectors deliver great image quality. However, expect to make a few sacrifices in terms of features and specifications. For example, you can't watch 4K movies on these 7 budget Projectors. Though some of the projectors accept 4K content, they'd optimize it and reduce the  quality for smooth performance. Brightness may also not be as high as expensive projectors. Additionally, expect a significant drop in color quality and contrast. 
1. Optoma HD146X
Throw ratio: 120 inches image from 13 to 14 ft away | Color quality: HDTV with REC.709 | Contrast ratio: 25000:1 | Resolution: 1080p | Lumens: 3600 | Connectivity: HDMI 1.4, Audio-Out, USB-A (Power) | Mounting type: Ceiling | Lamp life: 15,000 hours
The Optoma HD146X is a high functioning beast for watching movies. You can even play these PC and laptop games on it. It offers 3,600 lumens, which is more than the recommended brightness levels for home theaters and has a big screen display of 300 inches. It also boasts of a fast response time of 16ms, so input lag won't be an issue while watching movies or gaming. 
Added to that is an HD 1080p resolution and HDMI-link technology. You can connect your projector to your PC for uncompressed and excellent projections. Its Dynamic Black technology also gives you higher contrasts where both bright and dark scenes become detailed.
The Optoma HD146X also has a long lamp life of 15,000 hours. So you can enjoy 4 hours of projecting time everyday for 10 years with a low 26dB noise level.
---
2. BenQ TH671ST
Throw ratio: 100 inches at 1.5 meters | Color quality: HDR with Rec.709 | Contrast ratio: 10000:1 | Resolution: HD 1080p  (1920×1080) | Lumens: 3,000| Connectivity: VGA, HDMI, USB 2.0 Type A | Mounting type: Ceiling | Lamp life: 4,000 hours (normal mode), 15,000 hours (Lampsave)
The BenQ TH671ST offers hyper-realistic viewing with its 1080p resolution. Its unique feature is the LumiExpert technology, which automatically detects ambience. 
It helps the projector to adjust brightness and contrast settings to fit environmental conditions and give you better quality. The projector is also suitable for gaming as it's compatible with Sony PS4, Nintendo Switch screens, Xbox One X, and Google Stadia platforms. 
More importantly, this BenQ projector has a short throwing distance with 1.2x zoom. Even in small spaces, you can still enjoy big screen viewing effects from the coziness of your couch.
---
3. Anker Nebula Capsule
Throw ratio: 100 inches at 3.08 meters | Contrast ratio: 400:1 | Resolution: 480p (854×480) | Lumens: 100 (for dim environments) | Connectivity: HDMI (1080p input):, Micro USB, Bluetooth, Wi-Fi, Screen Mirroring | Mounting type: tripod, table placement | Video playtime: 2.5 hours (standard mode), 4 hours (battery saver mode) | Battery: 5200mAh lithium polymer
The Anker Nebula Capsule has a sleek design. Unlike the other projectors on this list, you don't have to dismantle it from the ceiling before moving it. You can fix it on a tripod or place it on a table and you're good to go.
Its portability can be likened to the Amazon Echo (3rd generation) speaker. You can hold it in your hands or shift its position while viewing up to 100 inches of screen size for 4 hours straight. It's also equipped with an omni-directional speaker that ensures you hear sound at 360 degrees. 
One other factor that makes this projector unique is its support for Airplay, Miracast, or Bluetooth. You can wirelessly watch and take control of your streaming with your smartphone via the Nebula Connect app.
---
4. BenQ X1300i
Throw ratio: 100 inches images from 9.4 ft away | Color quality: Rec. 709 | Contrast ratio: 500000:1 | Resolution: 1080p (1920×1080) | Lumens: 3,000 | Connectivity: USB, HDMI 2.0b x2 | Mounting type: Ceiling | Lamp life: 20,000 (normal mode) | Gaming modes: FPS, RPG & SPG 
The new BenQ X1300i is a gaming beast and a little over $900. But it's worth the extra dough considering what it has to offer. If you're always having prolonged gaming sessions on your couch, then you'd need a lag-free projector companion.
What makes the BenQ X1300i the perfect match for you is its 4LED light source. It's the first projector to deliver such quality. The extra blue LED it brings means improved color accuracy and higher brightness for you. 
An auto-calibration feature exists to automatically adjust colors as the projector ages. This prevents drastic image quality deterioration over the years. In terms of compatibility, share your screen with Roku, your favorite gaming consoles, handheld devices, and Blu-ray players.
---
5. TopVision T21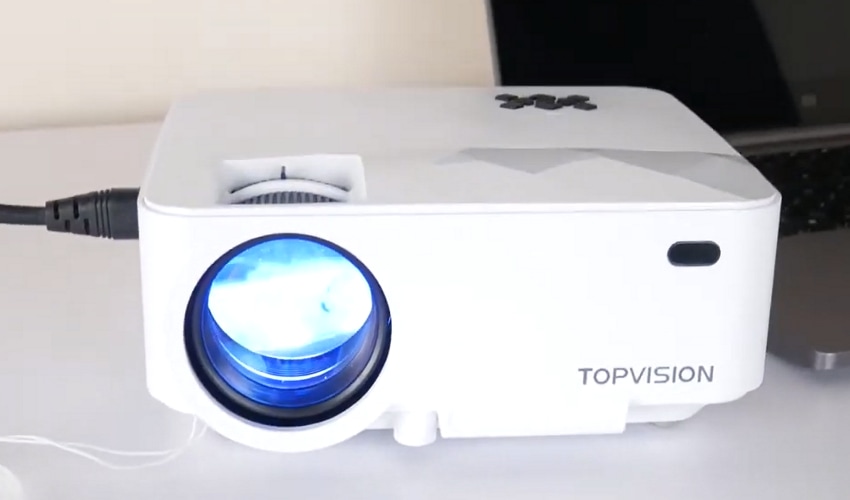 Throw ratio: 50 inches at 22.9 ft | Contrast ratio: 3000:1 | Resolution: HD 1080p (1920 x 1080) | Lumens: 4,000 | Connectivity: AV, HDMI, VGA, Wi-Fi & USB | Mounting type: table placement, flat surface| Lamp life: 50,000 hours
Like the Anker Nebula Capsule, this projector doesn't need ceiling mounting. Though it may not have the fancy 360-degree speaker and sleek design, its features can hold their own in a comparison battle.
For one, it has a 50dB working noise. Your projector would be as loud as a quiet conversation, which means no annoying whirring sounds disrupting your movie. You can also watch movies at a screen size of 200 inches, which is a lot for a $149 projector. 
Connectivity is also another factor to be admired about the T21. The range of devices you can connect to is almost endless. You can connect the projector to your Android and iPhone, and even earphones, PCs and consoles to your favorite streaming media.
---
6. ViewSonic M1 Plus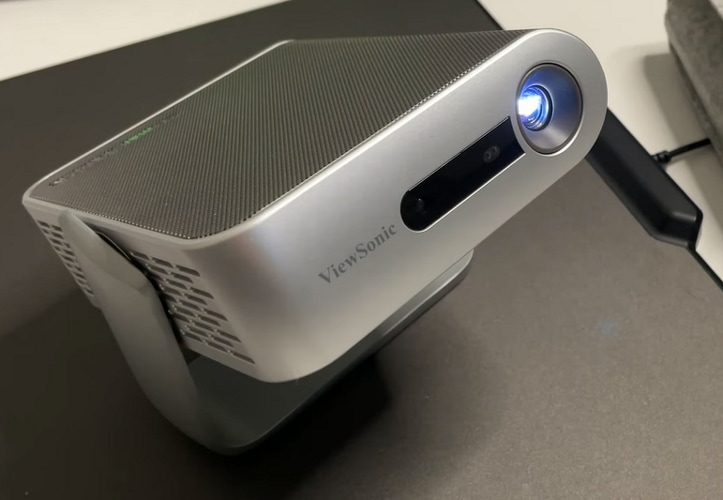 Throw ratio: 24 inches at 1 meter | Color quality: supports up to 1.06 billion colors | Contrast ratio: 120000:1 | Resolution: 480p (854 x 480) | Lumens: 300 | Connectivity: Wi-Fi, HDMI, USB C | Mounting type: tripod stand, table placement or flat surfaces | Lamp life: 30,000
The ViewSonic M1 Plus is convenience in the palm of your hands. It's an LED projector that rests on a smart stand. It can swivel up to 360-degrees, and the stand also acts as a lens cover. Removing it powers on your projector, so you don't have to press any button.
But what stands out most is its built-in dual Harman Kardon Bluetooth speakers. It's loud enough, so you don't need external speakers unless you want to feel the ground rumbling while you watch your movie. The room-filling sound makes it a strong contender with the Anker Nebula.
One major drawback to the projector is its brightness. Though it boasts of supporting over a billion colors, it still doesn't hold a candle to the other projectors on this list. You can't watch a movie from anywhere you want. It'd have to be in a dark room with the lights off. 
---
7. AAXA 4K1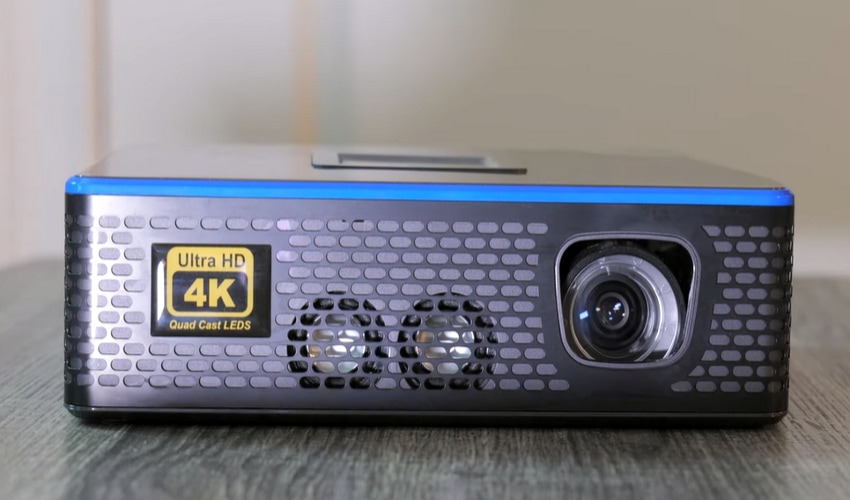 Throw ratio: 1.2:1 | Contrast ratio: 2000:1 | Resolution: 4K UHD 3840 x 2160 | Lumens: 1,500 | Connectivity: 2x HDMI ports, 1x USB port & 1x TF Card Slot | Mounting type: wall, ceiling or flat surfaces | Lamp life: 30,000
At $849 is AAXA 4K1 mercury-free projector for users who are sensitive about anti-green brands. Now you can watch as many movies as you'd like in 4K Ultra resolution without harming the environment. 
You'll have easy access to all Netflix, Hulu, Prime Video 4K UHD content. The display towers up to 200 inches and brightness amps up to 1,500 lumens for a decent viewing experience. It also supports remote control focus adjustments so you're not stuck with pre-set focus speeds and settings. 
The AAXA 4K1 is known for its versatility. You can choose to mount it on the wall or at the ceiling. If you prefer, you can also place it on a flat surface. 
---
Final thoughts 
We've seen the best budget projectors in 2022. The above products disprove the misconception that any device under $500 is cheap and underperforming. From 360-degree speakers to 4K resolutions, this review should convince you that you don't have to break the bank to enjoy good graphics. 
With a small budget, a decluttered wall and good ambience, you have more than enough to watch your favorite movies in the day or nighttime.