If you're at a loss why your hazardous waste business is struggling to grow, here are four possible culprits: 
You haven't updated your website in years
You didn't realize that online search is how businesses are now getting found
You haven't developed a system for online lead generation
You haven't invested in marketing
If these reasons behind your company's lack of growth sound familiar, you aren't alone. For years, hazardous waste companies have relied on old-school websites and word-of-mouth referrals for leads. Times have changed, however, and companies that require hazardous waste services are turning to the internet to find the help they need. 
The good news is that you can overcome these barriers, take advantage of modern-day marketing strategies and grow your business.
Outdated Website
As more companies seek out help with their hazardous waste management, it's important to ensure that your website is designed for lead generation. If you haven't updated your website in years, you could be losing out on prospective clients.
One of the most common mistakes hazardous waste companies make with their websites is using them as informational sites… think brochure or even menu.
If your goal is to attract prospective clients, this approach to website design is outdated. Hazardous waste issues are complex, and clients want to know how you can expertly solve their problems. If your website does not address the challenges your target customers have then you have built a website that is "ME" centric. In other words, it's all about you. You need a website that is "Customer" centric and is focused on solving your target customer's problems and making it easy for them to do business with you. 
BECAUSE, if potential clients can't find what they're looking for quickly, they will move on. The majority of website visitors will spend around 15 seconds looking at a website. If they have not found what they are looking for or are not engaged, they will leave. You have that short window to address your customers' concerns and present them with a solution.
Another common problem is that outdated websites are not set up properly for lead generation. A sign that a website is not set up for lead generation is that it is not utilizing enough CTAs. 
What are CTAs? CTAs, or calls-to-action, take visitors directly to the content you want them to see and the lead capture forms that will collect their information. Once you collect prospective clients' info, you can continue to nurture them with more valuable content until they are ready to contact you and possibly become a customer. 
Here is an example of what a CTA looks like: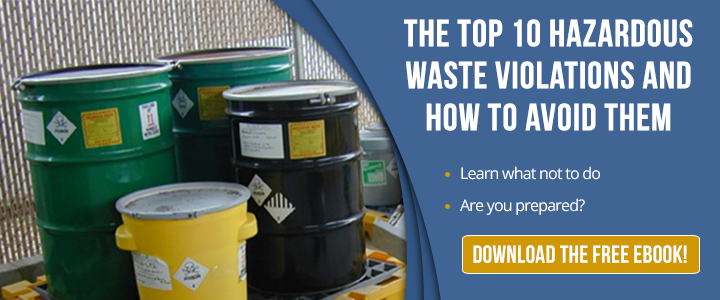 Often, hazardous waste companies will place a "Contact Us" CTA at the bottom of its homepage. However, if potential customers aren't ready to enlist your help just yet, you have lost the ability to capture their information and provide them with valuable content that can help them with their decision.
Every time you publish a blog on your hazardous waste company's site, send an email or upload a video, you should include a CTA that takes visitors directly to an offer that is relevant to the information provided in that content piece. For example, if you are writing about flammable substances, include a CTA that links to a landing page where the potential client can download a safety checklist for handling flammable waste.
How Businesses Are Now Getting Found
It doesn't matter how experienced your hazardous waste business is. If you rely on marketing methods like "word of mouth," you're missing out on opportunities to generate leads and grow your business. 
The fact is that online searches are how businesses are getting found today … even at the local level. In fact, according to Hubspot, 46% of all Google searchers are looking for local information and 97% of people learn more about a local company online than anywhere else. 
It's critical that your business has a presence on Google. Your website should be optimized to increase Google search visibility among your target audience while ensuring the user experience aligns with both customer expectations and business goals. 
A Google Business Profile is one way to increase your presence on Google. A Google Business Profile is a free tool that impacts how your business appears on Google Search and Maps. You can also connect with customers, list your services and post updates.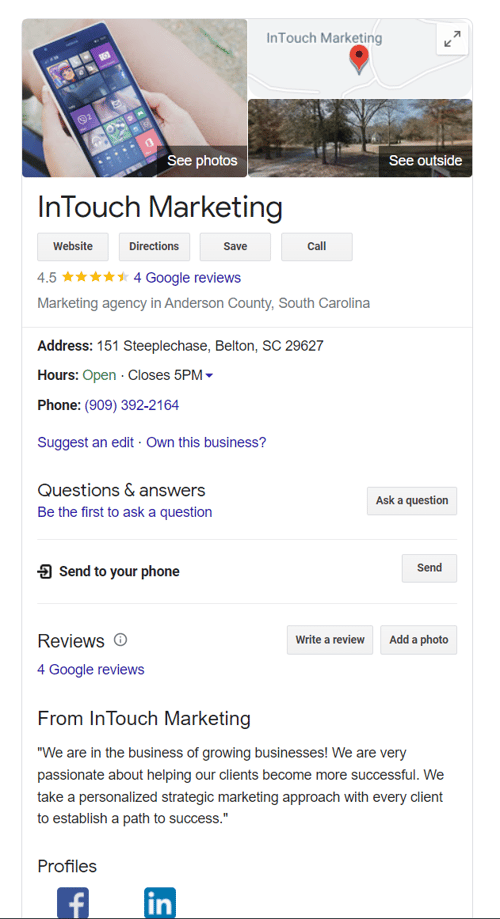 Another way to determine how your hazardous waste business performs on Google is by analyzing traffic analytics. Many businesses have no idea how many people are searching for their services and how often. They also have no idea where their traffic (and their competitors') comes from, how it arrives, where searchers go on your site and how long they stay. 
Ensure you have Google Analytics tracking code embedded on your website and have specific goals set up for future analysis. 
A System For Online Lead Generation
If your website fails to generate leads for your business, it's because it is not set up to capture potential leads.
When people search for help online they are typically researching a problem they have or are looking for immediate help. If they find your website through an online search term how will you capture this potential lead?
This is the start of your sales funnel. A potential lead has landed on your website for a specific reason, so you need a funnel system designed to capture and nurture that lead into a customer.
Think of your funnel system as having three stages: awareness, consideration and decision.
Awareness stage: This stage occurs when the buyer has a problem and is experiencing symptoms of this problem. They are aware a problem exists and in response have begun gathering the initial information they need to solve their problem.
Consideration stage: The consideration stage occurs when buyers have committed to solving their problem. They have begun considering options to solve it.
Decision stage: During the decision stage, buyers evaluate their options and decide on the right provider to help them with the solution.
An initial offer on your website is needed in the Awareness Stage.  An offer is a piece of content that is perceived by a potential hazardous waste client to be high in value. Examples of offers in the awareness stage include:
eBooks

Presentations

Checklists

White papers

Tools

Videos

Webinars
Once you develop an offer, make sure it has its own landing page on your website. Do not send customers to your homepage where they can get lost in distractions that may be on your normal website pages. Instead, send them to a dedicated landing page where you can capture information about the prospect in exchange for the offer. 
How do you get customers to the landing page? Through the CTAs we discussed above.
To move your prospects through your funnel, you need to nurture them by providing high-value, focused content that converts them from the awareness stage to the consideration stage and ultimately to the decision stage. Examples of content that can move your leads through the process include:
Case Studies

Comparison Guides

Webinars

Masterclasses

Workshops

Video series

Free trials with coaching videos

Free Quote
A good funnel system should teach your prospects something valuable, build your credibility as a hazardous waste business, educate prospects on hazardous waste issues and help establish a connection between you and the prospect. 
Remember, your website is the first impression of your business potential leads will see. Design it around their needs, not yours, provide compelling content, and options to capture their information and you'll start seeing new business enter your sales funnel.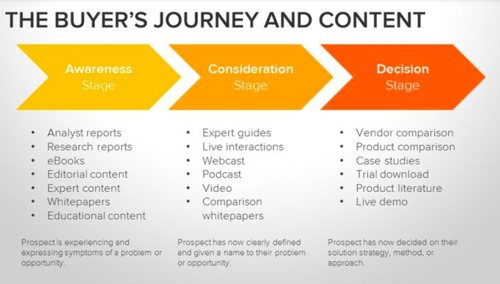 Investing In Marketing
While some companies may view marketing as an expense, it's important to think of it as a wise investment. 
Those who think of it as an expense, or worse as unnecessary, typically don't budget for marketing. They likely also haven't received help from a marketing agency that specializes in the hazardous waste industry.
On the other hand, companies that view marketing as an investment understand that in order to grow their hazardous waste businesses, they must continually invest in creating new leads and new customers.
So what usually gets in the way of thinking of marketing as an investment rather than an expense? 
Survive mode vs. thrive mode: Businesses struggling to survive will spend some money on marketing, but stop once they land a few leads. Thrive mode takes patience and persistence. Decisions reflect both short-term and long-term thinking.
Perceived value vs. cost of marketing: The value of an effective marketing plan goes way beyond its cost. A business owner may only look at the cost of generating a marketing plan, but fail to see how it helps a company reach its goals in the long term.
Unrealistic expectations: It's normal to want results fast, but getting immediate results can be challenging and unrealistic. This can cause some companies to forego marketing efforts. However, the most effective marketing strategies are marathons, not sprints.
Previous failed efforts: If a company has been burned in the past, it might be less likely to jump back in and trust a marketing agency. However, working with a marketing company that is invested in your success just as much as you are can help erase those painful memories.
With constantly evolving hazardous waste regulations and the need for hazardous waste services increasing, without the right marketing help, you could be missing out on opportunities to grow your business. 
A marketing agency, especially one that focuses on inbound marketing and is experienced in working with hazardous waste companies like yours, can provide substantial value for your business. For example, the best marketing agencies will:
Provide experience in executing a plan suited toward meeting your goals as a hazardous waste management company
Execute your marketing plan immediately with both short-term and long-term goals in mind
Keep you from using your current employees to manage and handle marketing efforts
Prevent additional overhead from hiring new employees, including salaries and benefits
Keep in mind as well that when your hire a marketing agency, the government allows you to deduct 100% of marketing expenses used to generate or keep customers.
Perhaps one of the best reasons to work with a marketing agency is that it allows you to focus on running the operations of your business. You won't have to worry about juggling your current duties with executing a marketing plan or managing a marketing staff. 
Marketing your hazardous waste company can seem like a complicated or challenging task. Yet it's an important part of your business and is necessary in order for your hazardous waste business to consistently grow and prosper.