We use affiliate links. If you buy something through the links on this page, we may earn a commission at no cost to you. Learn more.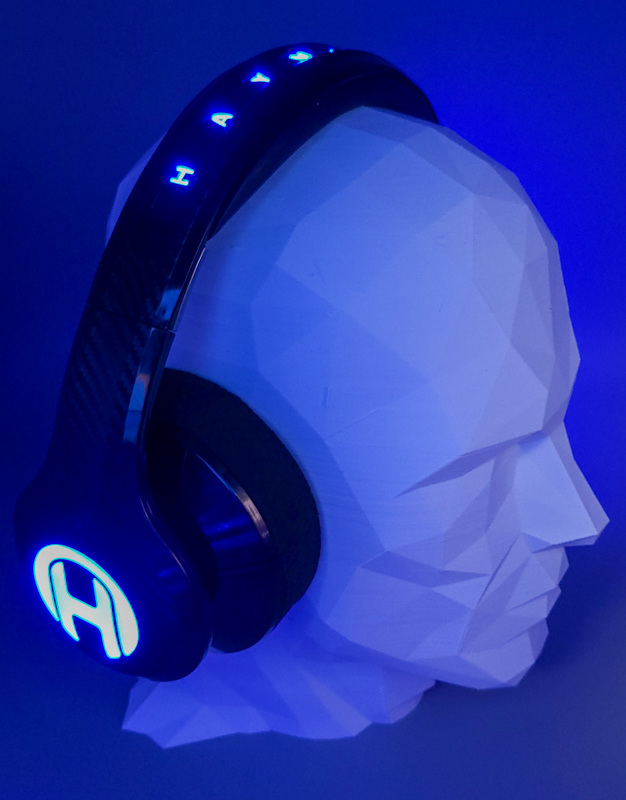 REVIEW – Have you ever wanted to experience phenomenal sound quality in comfortable headphones, while also looking like you're attending a rave or gamer expo? If so, this latest product sent to me for review from Haymaker might be right up your alley. The Haymaker gaming headphones are peak "gamer product", with carbon fiber pattern exterior combined with RGB lighting that everyone can see but you. Hidden under this garish exterior lies some quite decent headphones, especially when used wired through their USB connection or with a high quality DAC (digital to analog converter).
What is it?
The Haymaker gaming headphones are headphones marketed towards the premium gamer segment. These look like they're designed with gaming streamers in mind with bright LED lights emblazoned all over the exterior. They have large high quality drivers for excellent audio, noise-cancelling, Bluetooth/USB/Analog connectivity, and a price tag to match the large list of features.
What's in the box?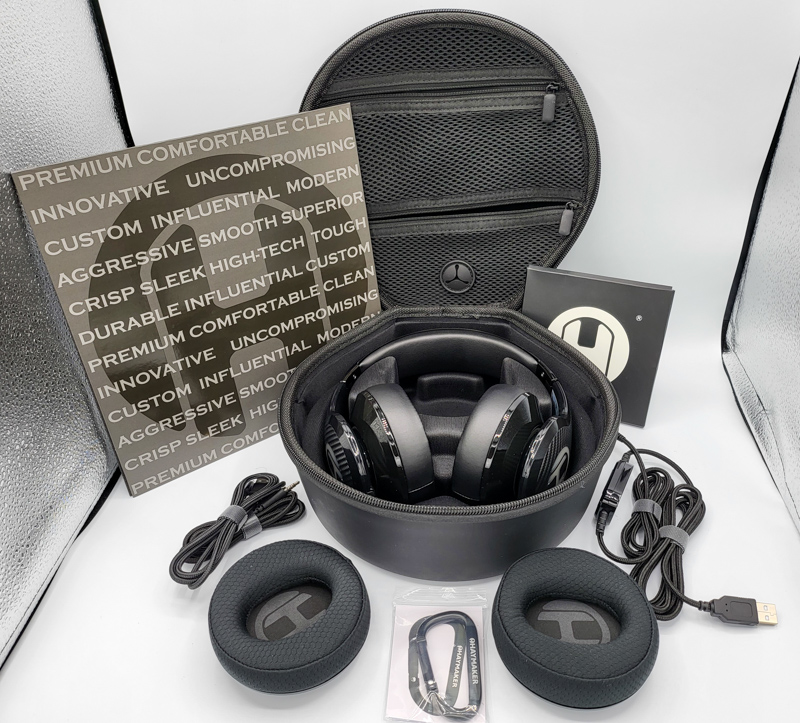 Haymaker gaming headphones
Alternate cloth earpiece set
3.5mm
Hardware specs
Drivers: 40mm dynamic
Frequency response: 20-20KHz
Sensitivity: 119±3dB
Impedance: 32Ω
Battery life: Up to 43 hours in Bluetooth, no lights, volume at 60% / 12 hours with ANC and RGB lights on
Charge time: 1.5 hours
Weight: 322 g (11.5 oz)
Charge connection: USB-C
Bluetooth type: 5.0, A2DP, AVRCP, HFP, HSP
Codecs supported: APTX, APTXHD, APTXLL, AAC, SBC
USB gaming audio: DIRAC 7.1 Surround Sound, DIRAC HD Sound, Stereo 2.0
Design and features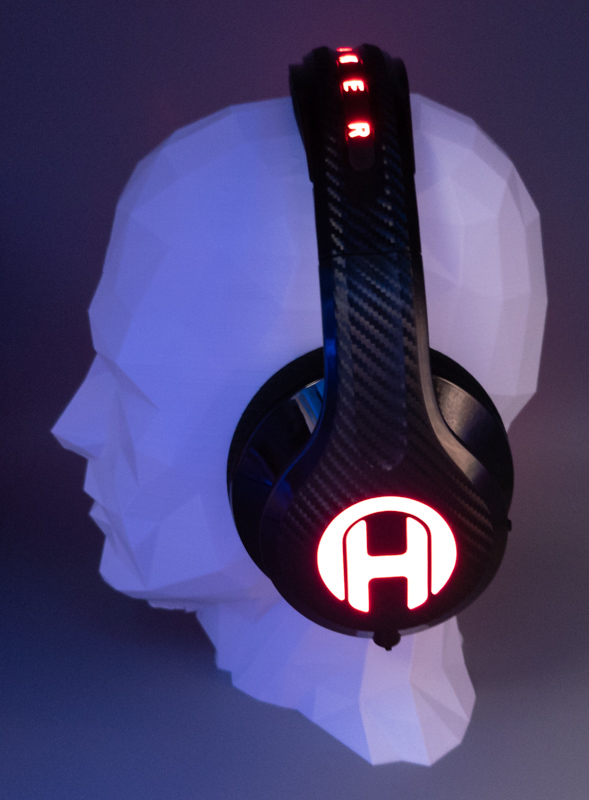 My first impressions upon handling the Haymaker gaming headphones was that they felt more like a toy than professional/audiophile headphones. This is probably due to the all-plastic/carbon-fiber exterior, which makes them fairly lightweight. For long term listening that's a good thing, it just gives a first impression of feeling like a cheaper product to me.
The logo areas on each ear are touch-sensitive, and you can adjust things like the lighting, volume, call answer/hang-up, track-skip, and more through various tap combos.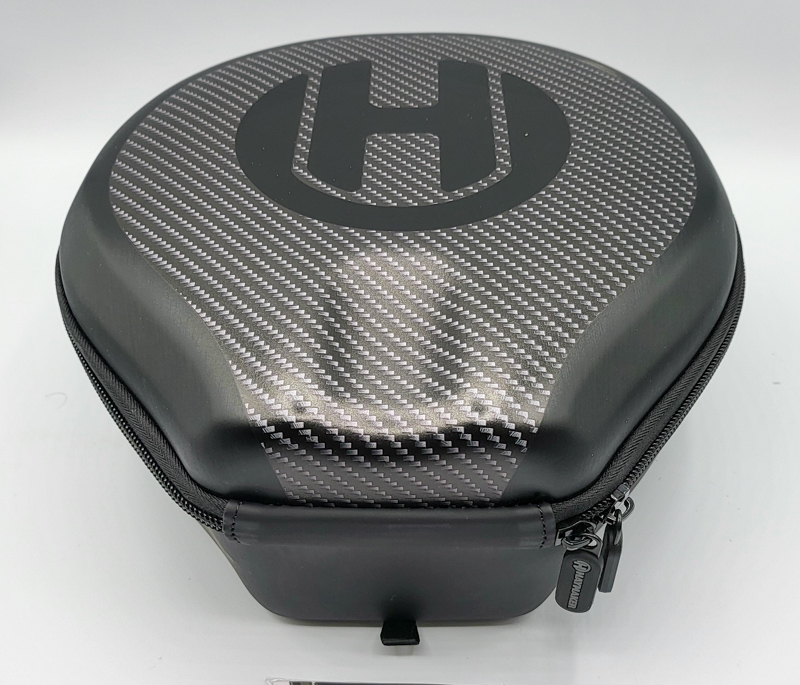 The first thing you open is the included "travel case". I put this in quotes, because it's so ridiculously huge as to preclude it from being a reasonable travel option. I think Haymaker knew this, because they include a carabiner specifically to attach this case to the outside of your travel bag, knowing that it would fill up pretty much any normal travel bag. To me, this is a strange choice, especially when because these headphones fold up into a much more compact size (roughly half the volume of this case).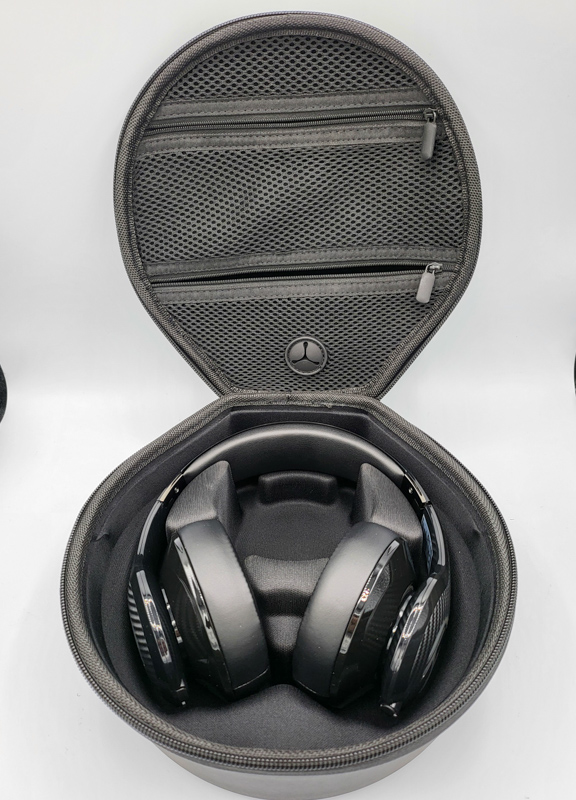 The inside of the travel case provides ample storage for the additional earcups and USB/analog wires. Plus even more extra space for no benefit that I can fathom.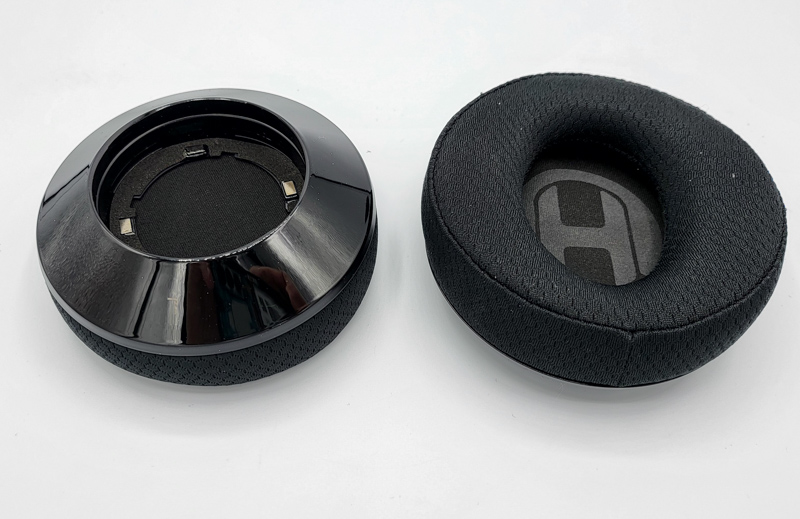 Speaking of additional earcups the shot above shows these, they're breathable soft cloth and I much preferred them to the default leather (faux leather?) versions that made my ears hot and sweaty. I love that they included magnetic connections to easily swap these out.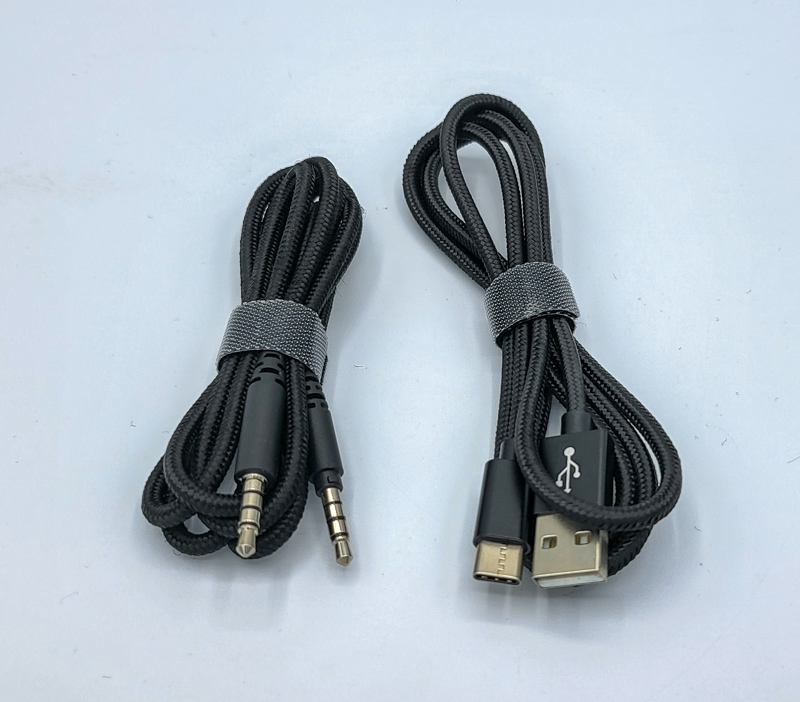 The shot above shows the 3.5mm mm aux audio cable and the USB charging cable.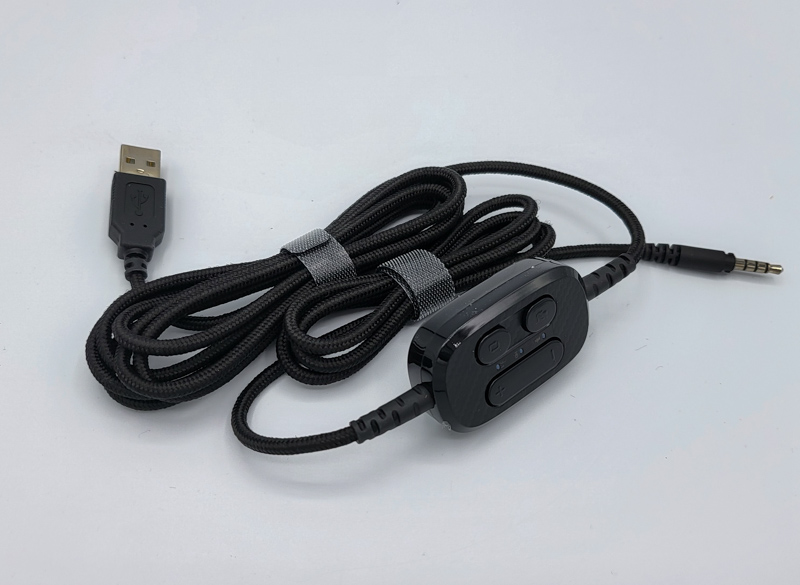 Also included is a USB-A DAC (digital to audio convertor). This is required for the high-fidelity DIRAC HD audio and DIRAC 7.1 Surround when using with a computer.  This gave me the best audio experience, and is now my new daily driver for work calls and gaming in this wired mode. Alternately you could use your own headphones amplifier/DAC for best audio experiences.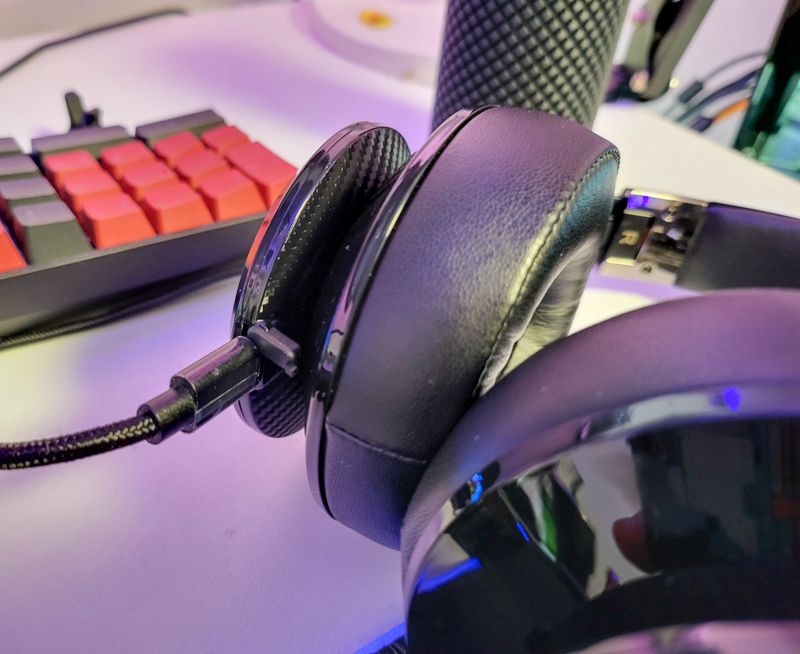 The Haymaker gaming headphones are a pretty standard over-ears form factor, with analog audio port on the bottom of the left earcup and USB-charging port on the bottom of the right. Both types of earcups covered my ears completely and were comfortable, though the leather/faux-leather ones were hot as most tend to be. The headband has a metal frame and adjustments are smooth sliding and stay in place well once adjusted. They were big enough for my large cranium.
Installation and setup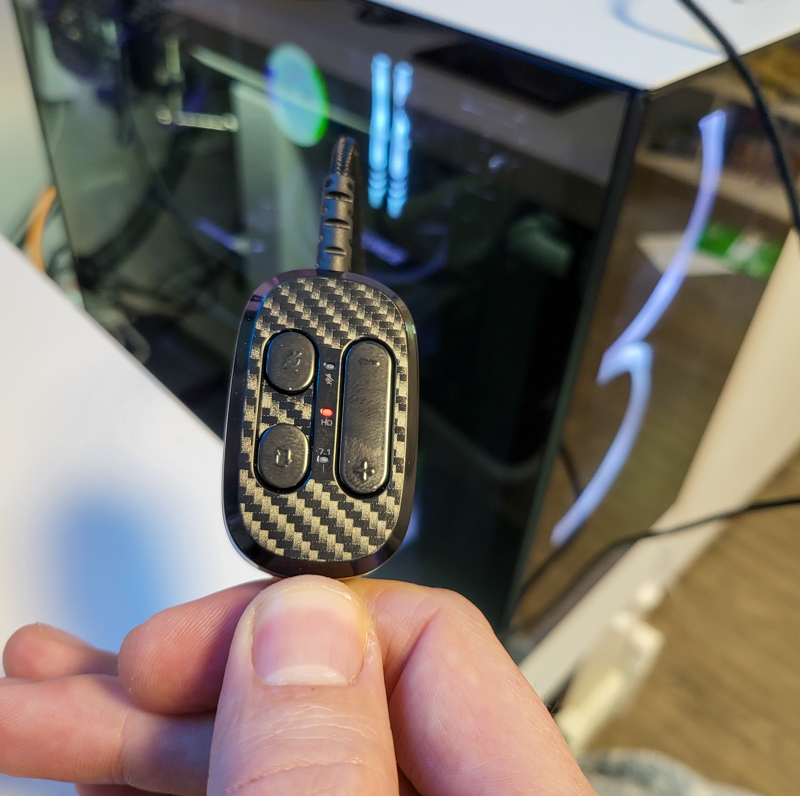 Installation is as simple as plugging the Haymaker gaming headphones into whichever device you're using (or connecting via Bluetooth, which is quick and easy). To use the DIRAC HD/7.1 modes in USB, you need to install software from Haymaker's website first. This was a standard software install, and after a reboot these modes worked from a simple button press on the USB cable's built-in remote.
Performance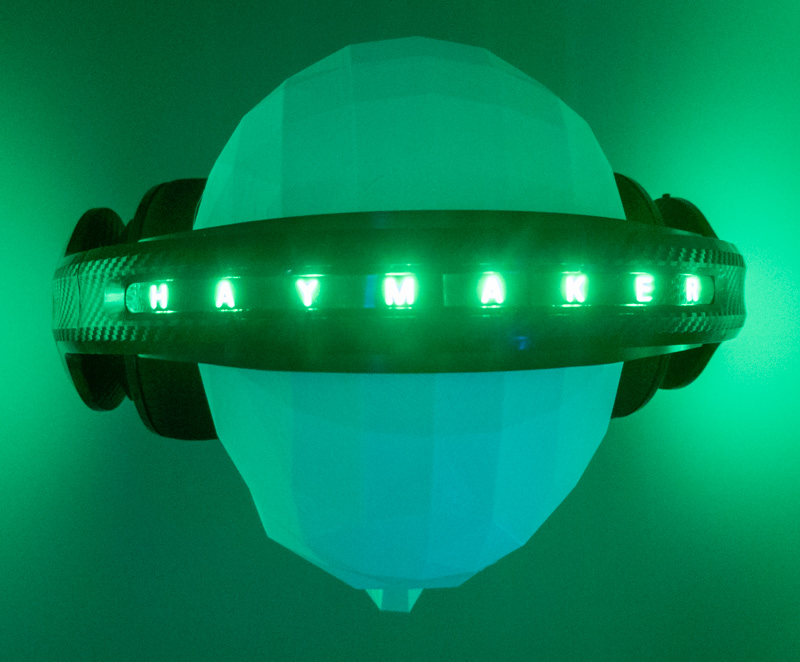 The last pair of headphones I reviewed was the Thinksound OV21, and the Haymaker gaming headphones are close in terms of quality. I had to really pay attention to small things to notice the differences, overall it's a fairly similar experience to my ears. I didn't have as many moments where noises in-game or in music made me think I'd heard something in my room like with the ov21's. Overall though, every musical style I enjoy (pretty much anything) sounded fantastic. I was genuinely happy using these as my all-day headphones as I worked.
Artificial audio tests showed solid performance across the sound spectrum; ample bass all the way down to the edge of my hearing without a big drop-off like you'd get with cheaper headphones.
Gaming was great using these headphones. The DIRAC HD audio mode resulted in very crisp and clear in-game sounds, as well as excellent voice communications with friends (though I prefer my USB desktop microphone to the cheaper-sounding one build into the USB dongle/remote). Without the small software download from Haymaker, you'll just have standard Stereo audio through USB, but even this sounds better than average to me. I can tell a difference with the HD audio mode enabled, so it's probably worth trying out.
I tried out the DIRAC 7.1 surround sound, but virtual surround has never impressed me. You get audio that is more distinct in different directions, which could be good for competitive gaming, but the overall sound quality is much diminished to my ears. It all sounds like it's being overly processed and parts of the audio spectrum reduced too much with other parts over-amplified.
The Active Noise Cancelling feature was also a bit of a disappointment to me. It does reduce ambient noise fairly well, especially with the leather earcups, but at a significant cost to audio quality. This is something I haven't noticed with other noice-cancelling earbuds or headphones in the past, but it was noticable enough to note – whenever I turned on the ANC, everything sounded more tinny. It also uses a decent amount of battery, so unless you're on an airplane or noisy train or something you'll probably want to just rely on the passive sound isolation provided by the closed earcups.
I like that these headphones have Bluetooth (with a generous list of codec support including low-latency options), but Bluetooth has a limit to the quality of audio that can be sent, and I could tell the difference between Bluetooth and wired. I did spend multiple days in Bluetooth only mode and used it with various devices as well. I like that you can use these for multiple purposes like on a commute, at your computer, on your gaming console, in bed to not disturb a partner, etc. Battery life is great in Bluetooth-only mode with lights off (40+ hours on the spec sheet, I used them for 3 days with 6-10 hours of listening per day before a recharge). If you turn on lighting and ANC, that can drop down to 11 hours pretty fast. Using ANC and/or lighting while wired will also drain the battery, so watch out for that.
What I like
Great sound performance on wired/USB
Long battery life with Bluetooth
Comfortable for long gaming sessions
Compatibility with pretty much anything (Xbox/Playstation/Bluetooth/USB/Aux)
What I'd change
"Virtual 7.1" remains to me a marketing gimmick that serves only to make most things sound worse
RGB lighting is over-the-top for me, but this could be a pro for some people
ANC needs to be improved to where it doesn't detract from the sound quality so much.
Final thoughts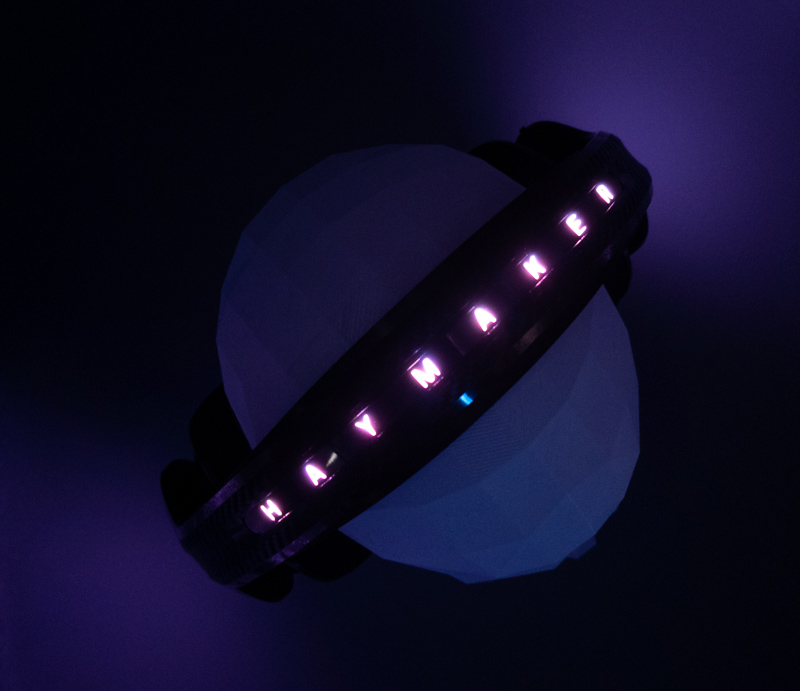 My first impression of the Haymaker gaming headphones was admittedly not great, but they've grown on me during my weeks of testing. Personally, I leave the lighting off all the time (I'm often using these on work web meetings and flashy lights aren't quite viewed as professional in corporate America). However, if I spent significant time streaming games I could see the lighting being a unique attention-grabber. Great audio quality and comfortable all-day wear are the main factors for me in continuing to use these, and they've become my daily drivers (for now).
Price: $329.95
Where to buy: Haymaker and Amazon
Source: The sample for this review was provided by Haymaker