Whether you are a freelancer, content creator, content seller, owner of a small business, or even a big company, Graphy is a perfect spot for you if you want to sell courses online. It belongs to Unacademy that is a $3.44 billion company.
Everybody in the market wants their content to reach as much audience as possible to grow their sales and expand their business. Graphy lets you build your video content for online courses, add no-code websites, and establish your app to sell them as a next step.
The best part is that you don't need any coding experience. A group of experts is already there to help you if you face any problem in any of the steps involved in content generation.
Graphy Overview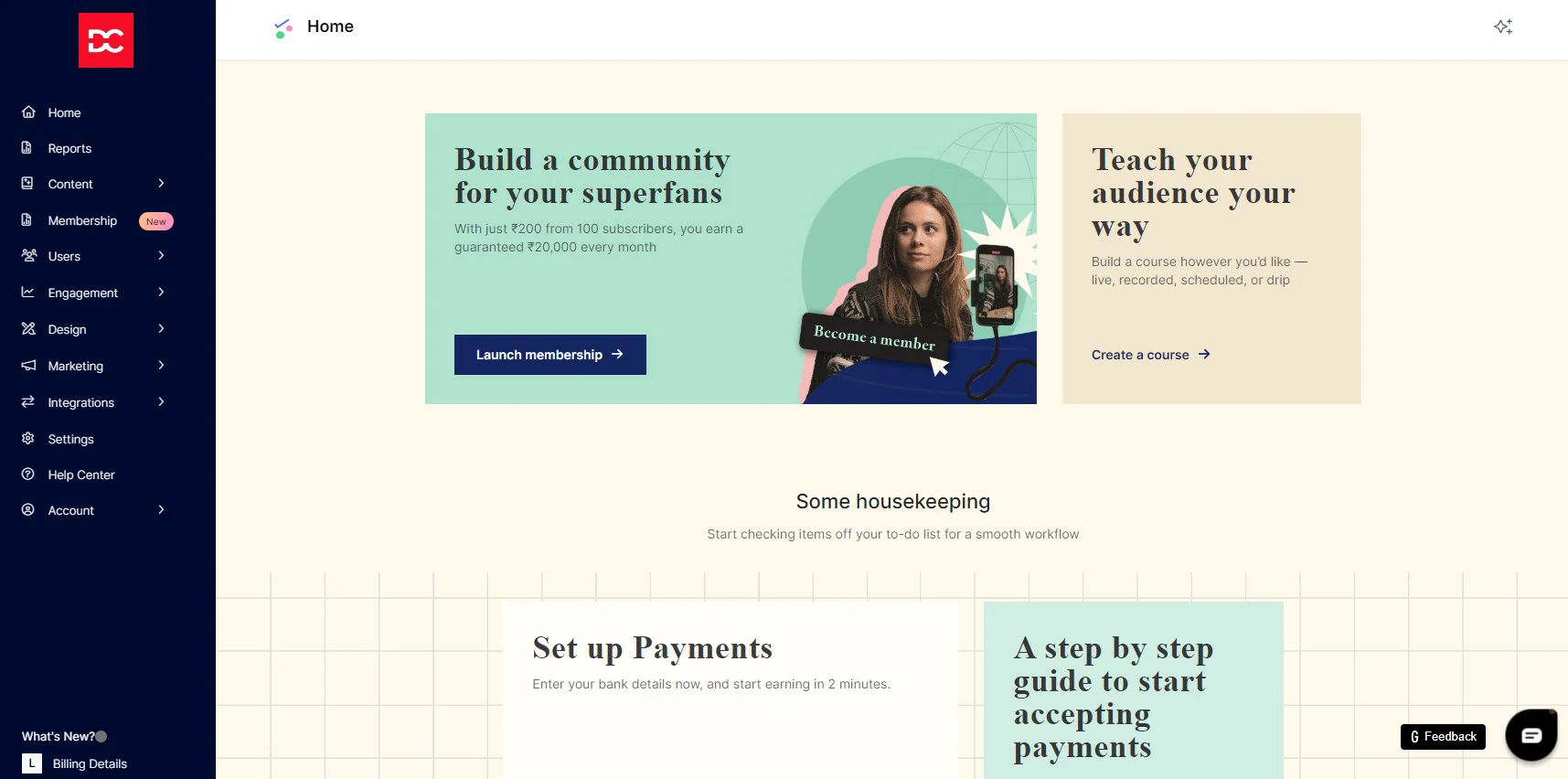 Graphy is a platform where you can provide education through live, pre-recorded video or audio courses that include lessons, quizzes, live tests, and assignments to record the student's growth. You can also set up an expiry date on the availability of your course content.
Using Graphy, you can run your iOS and Android mobile apps or set up your clear website with the help of pre-defined templates and themes that gives a pleasant look to your brand.
Make your courses reach international levels through payment gateways like Stripe and Razorpay. You can sell endless courses and make customizations at any step you feel like while creating your content.
You can grasp organic traffic with specific blogs, meta tags, keywords, and HTML code. Then by providing promo codes and discount coupons, you can increase your sales. And further access reports online or download them to maintain a record of your sales and course performance.
You can keep your workflow organized here by using particular tools and keeping track of your tasks.
Establish an affiliate program through which the students on your site can be transformed into your affiliate partners to expand your sales. An affiliate dashboard is also available to check affiliate performance, and your partners can record their commission. 
You can secure your content by providing login verification, content encryption, and coupon protection. To prevent your content from sharing to other sources, Graphy provides strong watermarking on your videos.
Your learners can connect to you through SMS, emails, notifications, and WhatsApp whenever they need assistance.
Graphy Features
Create Multimedia Courses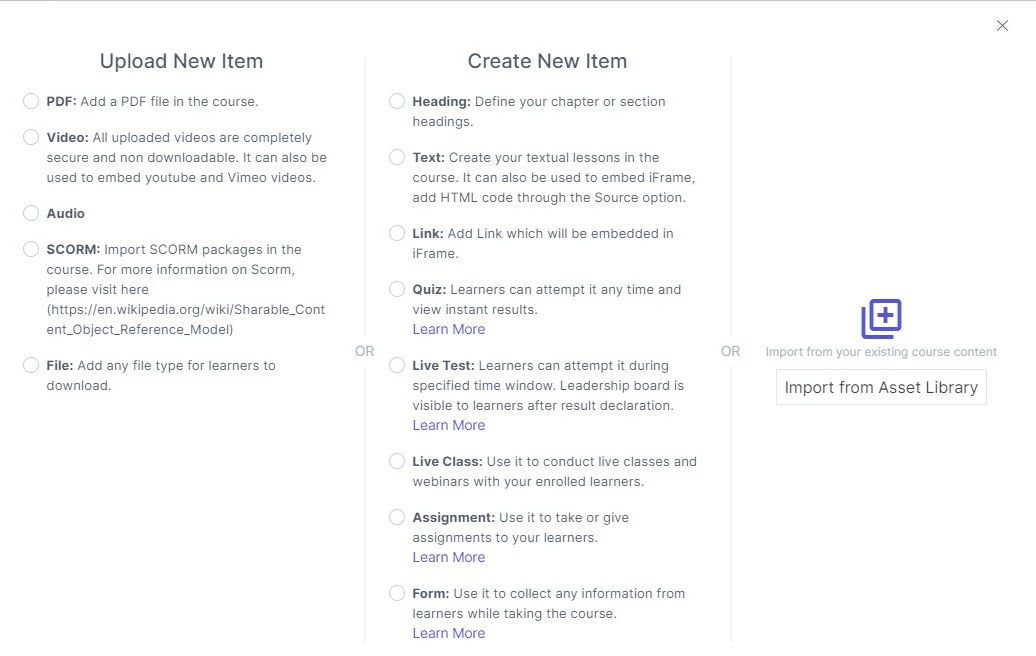 You can create and upload your courses on a mobile app or web according to the demands of your learners and teach up to thousands of courses here by giving access to all content at once or setting up the limit to access section-wise. You can use Text, Videos, Interactive Quizzes, Live Tests, Assignments, Forms, Audio, PDF files, and much more for the course content.
You can also give your students a customized online certificate to complete their courses.
You can also give private tuitions to offline students through recorded videos.
Create Clear Websites and Mobile App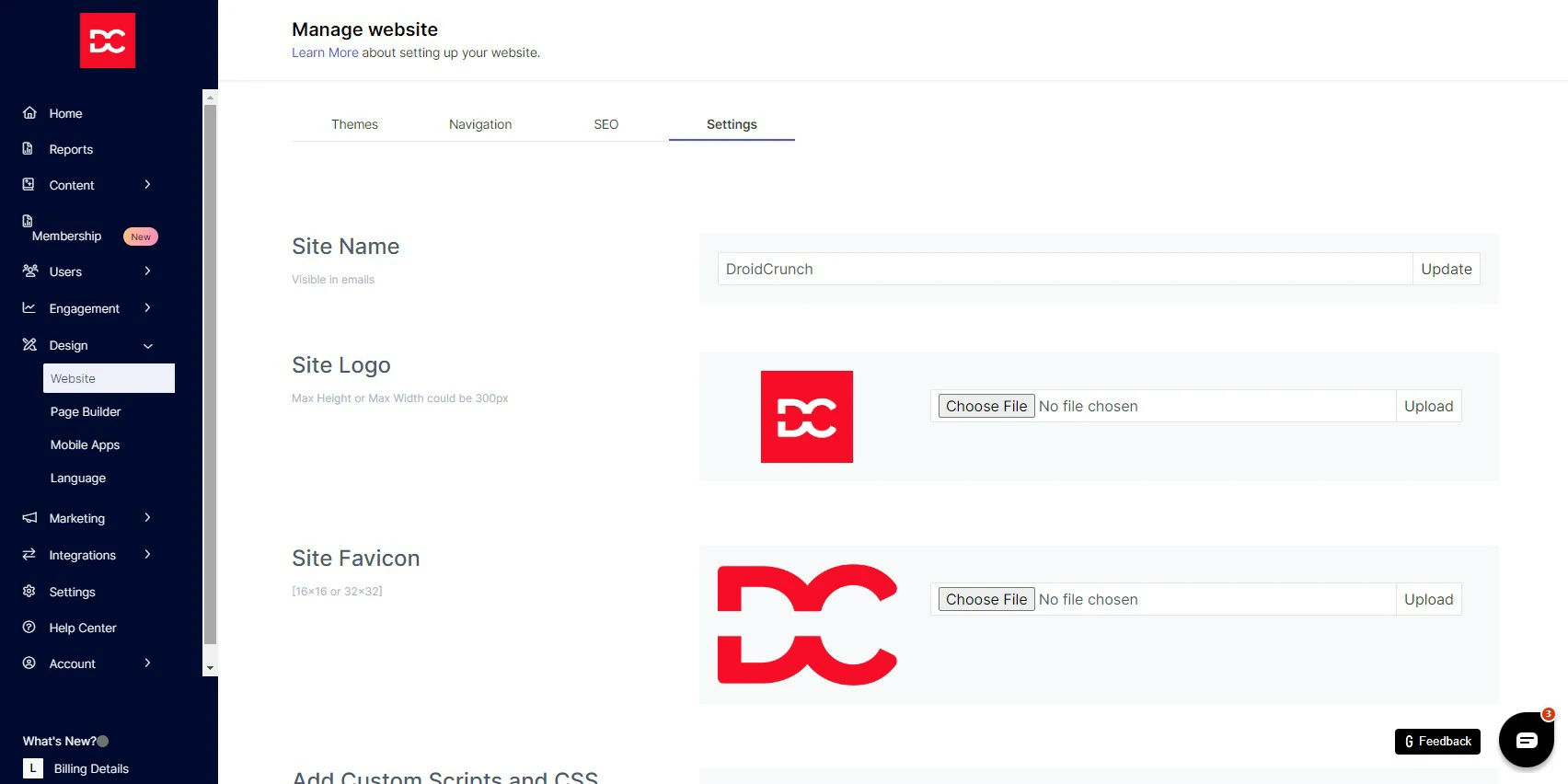 In less than 60 seconds, you can create a website on Graphy by adding a picture, an amazing description, positive testimonials, and featured media. It helps you efficiently build your brand.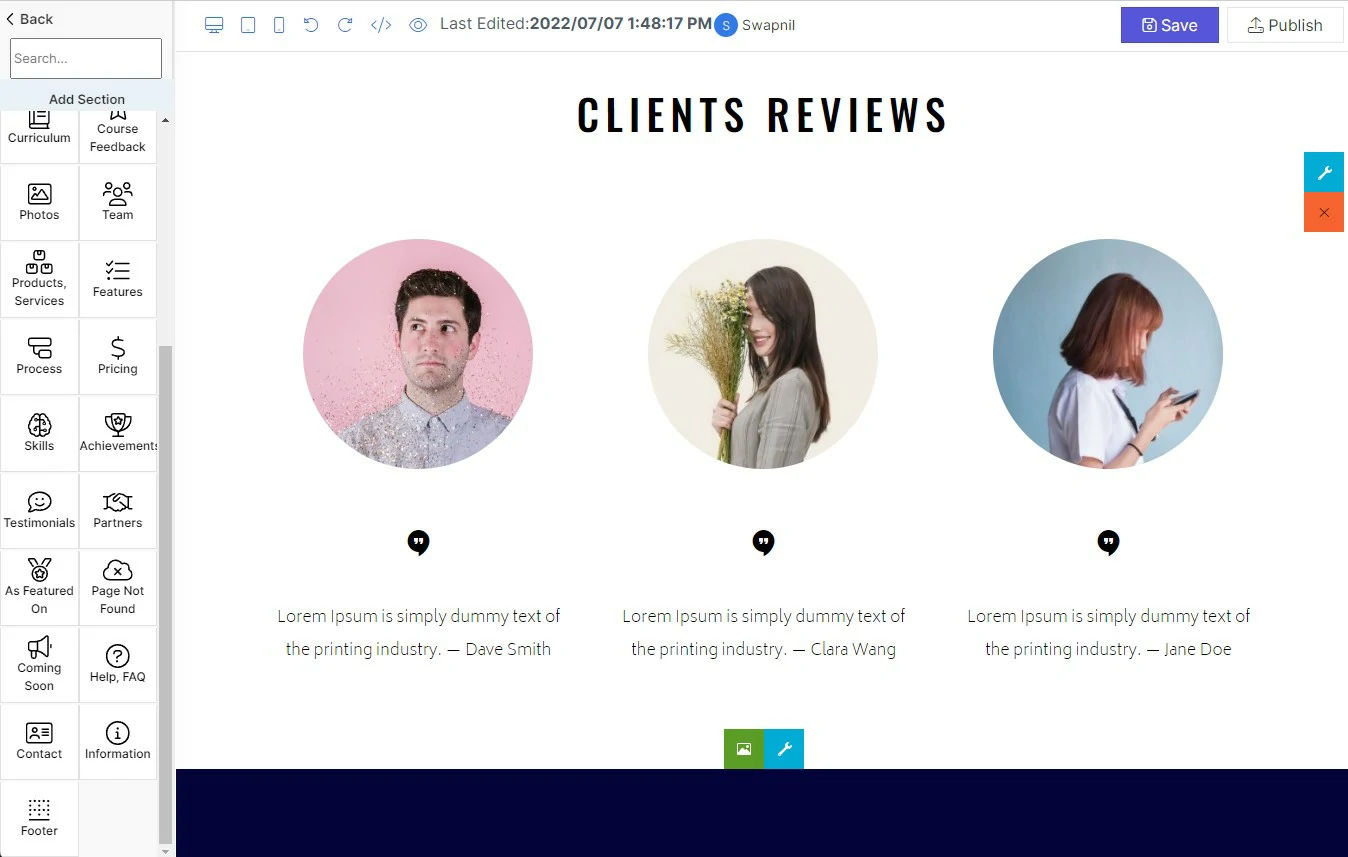 Your learners can easily set up their account on your website by clicking on 'Sign up.
After signing up, a pre-build landing page and a completely operative website are available.  You can either add content to this existing landing page or make customization accordingly.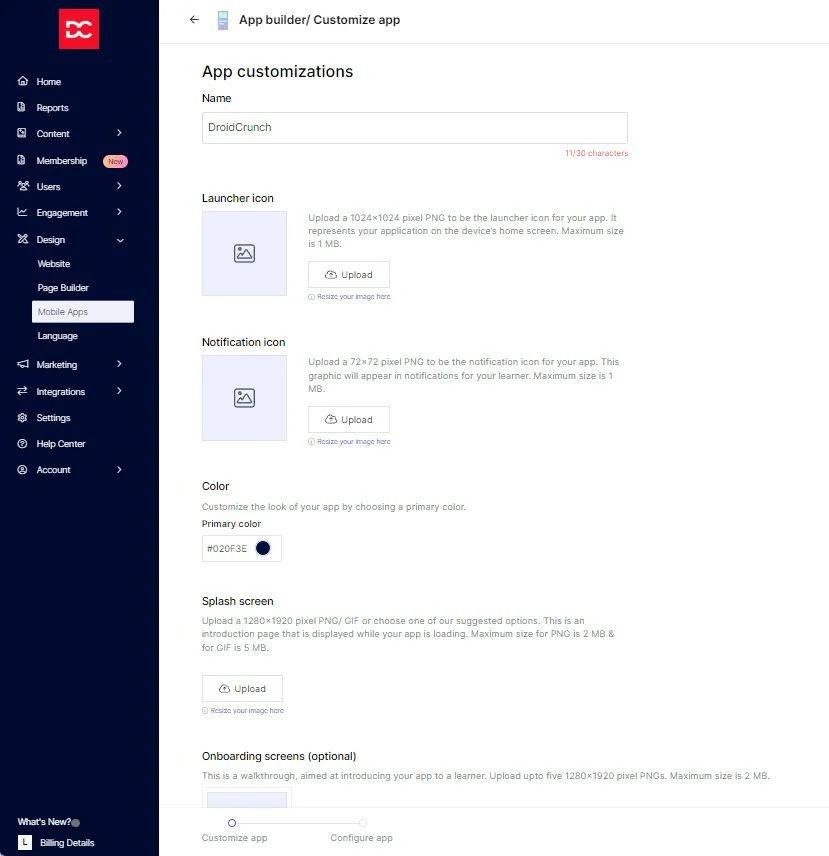 Create mobile apps consisting of your product name and logo and provide the authorship with a Google and apple developer account. It lets your users invest more time in your video courses. As it is convenient to download and works properly through navigation. Downloading content here comes with great protection, and screenshots are also restricted.
OTP & Social Login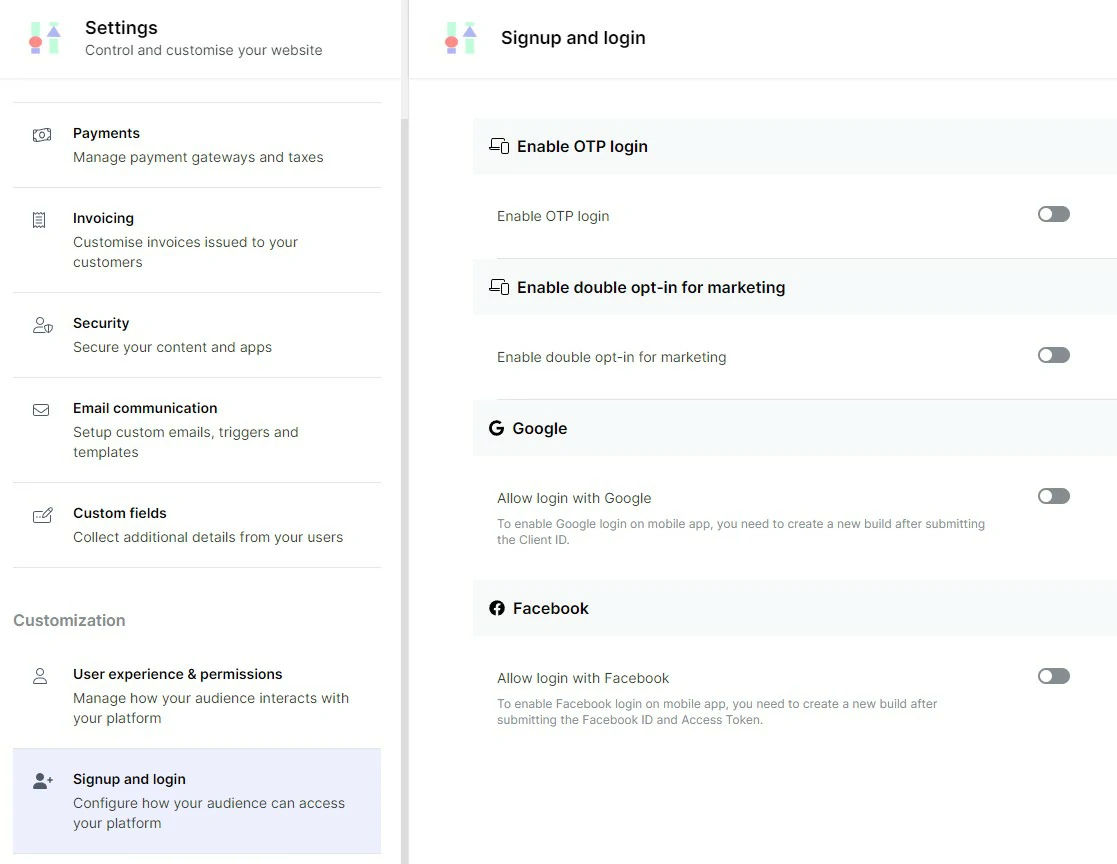 You can also allow social login and OTP login to your members to access the platform. This is very convenient and allows your users to access the platform quickly; thus, the course content becomes at their fingertips.
Offers Integrated Payment Gateways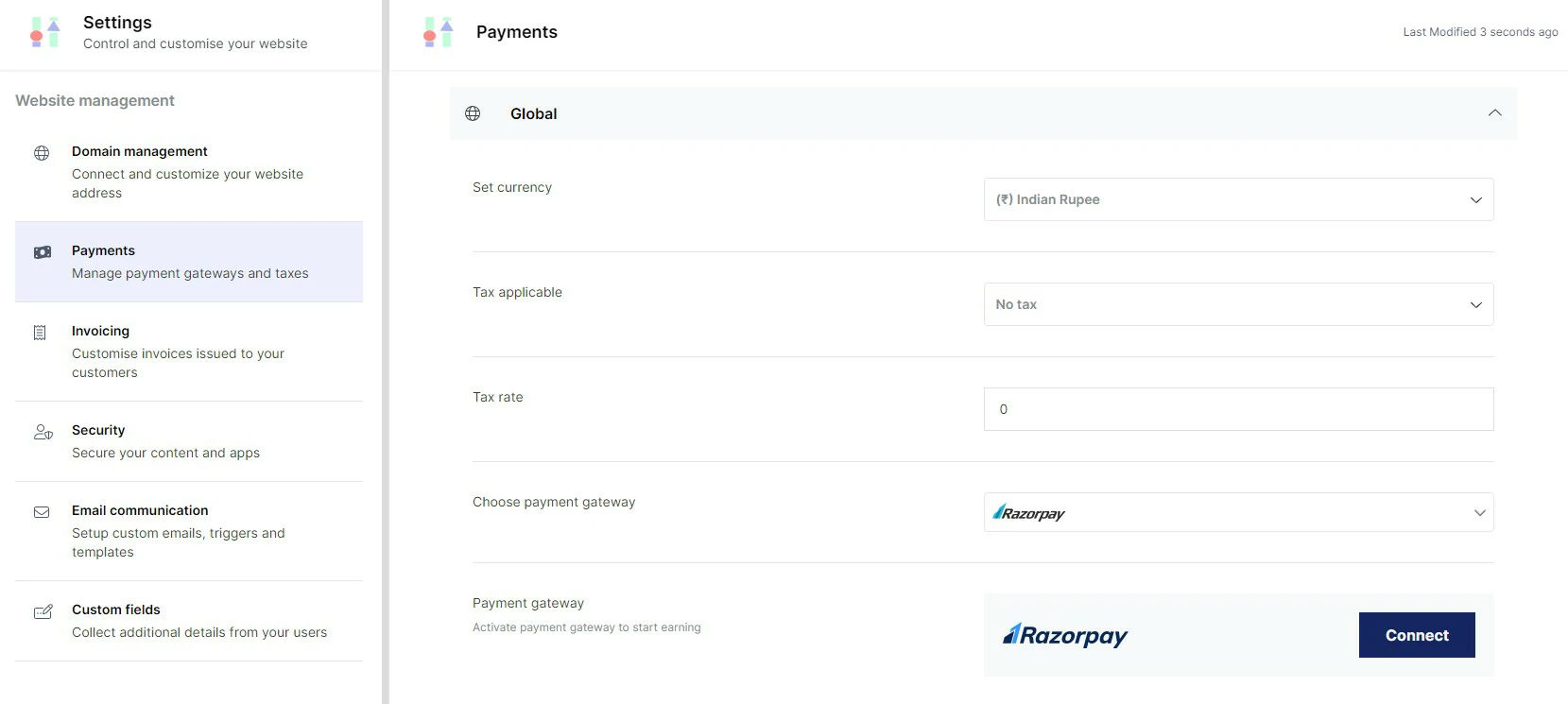 You can set up payment gateways preferred by your users and sell endless courses. Accepting payments from all over the world is also accessible here using a Stripe account, and that too in your customer's particular currency.
You can customize your pricing plans for different countries and courses presented on your site.
A sales and revenue dashboard is available to record your sales, refunds, and cancellations.
Access to Marketing and Sales tools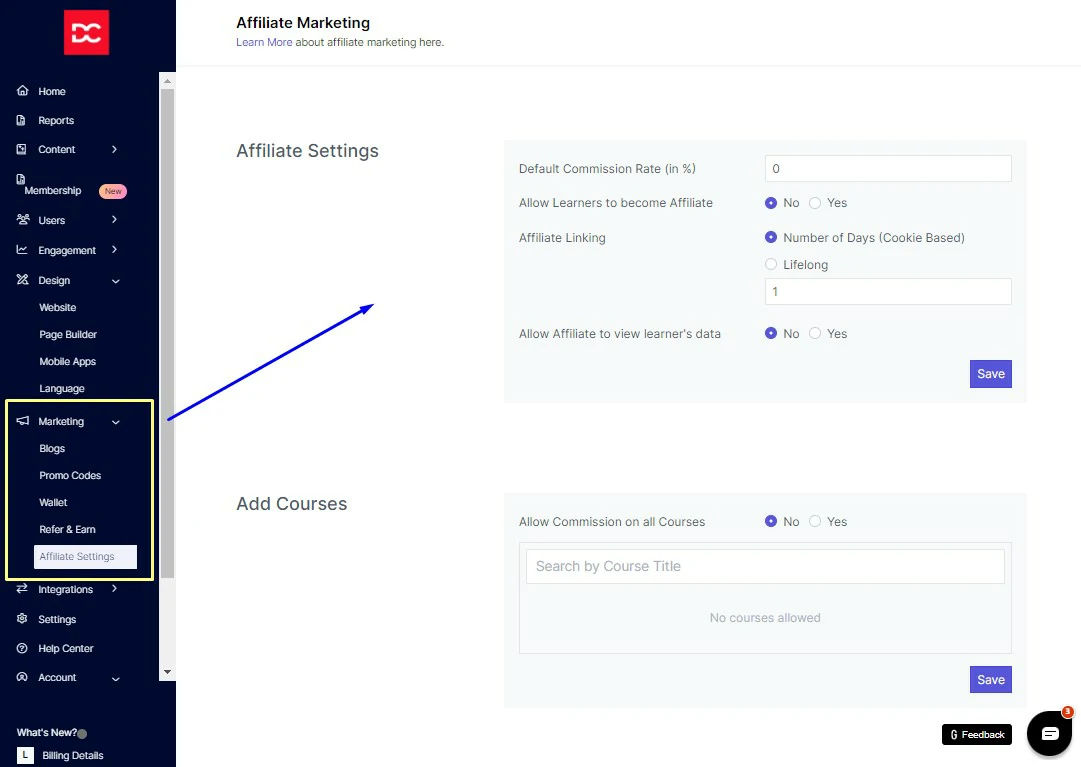 Optimize your website and landing pages, and offer interesting deals by building promo codes and discount coupons to attract organic traffic.
Track the performance of the growth of your content course and make advancements in your campaigns for better promotion of your products.
You can increase sales by establishing great transformation landing pages and single-click funnels.
Give suggestions about relevant courses when your customer visit check-out pages so that your course get cross-promoted and your sales get expanded.
Set up an affiliate program where your customers can collaborate with you and spread your business. Give a separate affiliate dashboard for all your affiliates so that they can check their growth and make an estimation to enhance their performance.
You can also go for setting up a Refer and Earn program for your users. For instance, you can give cash back to your users whenever they refer to any of the courses. And then give your users access to that cashback on the next purchase of your course.
Launch Memberships
Release blogs, newspapers, courses, and invite-only group chats through optimization available in your mobile app. Build your community together and enjoy membership. You can also share daily motivational tips to boost your group members' enthusiasm through group chats.
How to Use Graphy by Unacademy
Using Graphy is quite easy. You just need to finish setting up
your account information
Payment Details
Invoice Settings
Email Configurations
Live Class Preferences
Sign up and login preferences
Now is the time to add courses, lessons, and content. Navigate to Content > Courses to create a new course.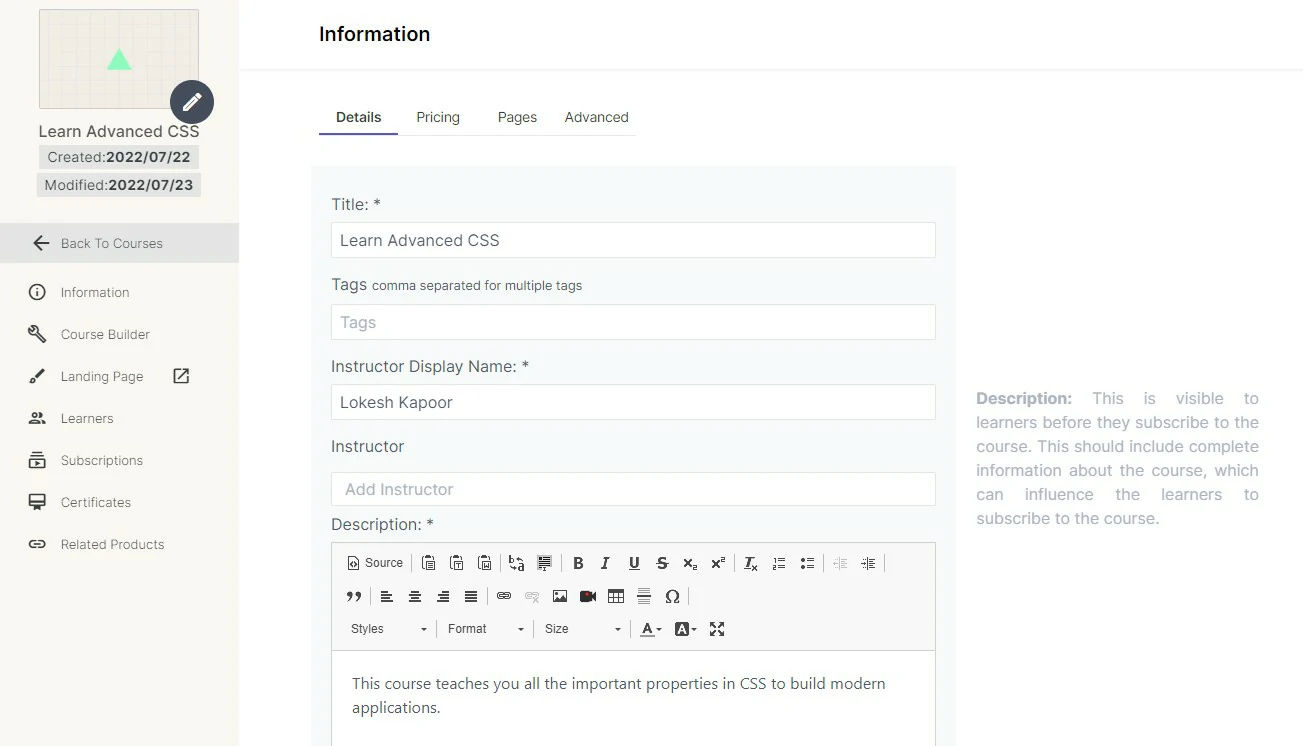 Now go to course builder and start customizing the chapters.
Remember the hierarchy to set the right item inside the right chapter.
Let's discuss the type of items that you can add to your course.
Building Course Content in Graphy
Text Item
To add textual lessons to the course. It can also be used to embed iFrame and add HTML code through the Source option. It gives you access to the rich editor through which you can add tables, highlight important text, change text sizing, choose from different text style options, format text, align, add images & videos, set links, and more.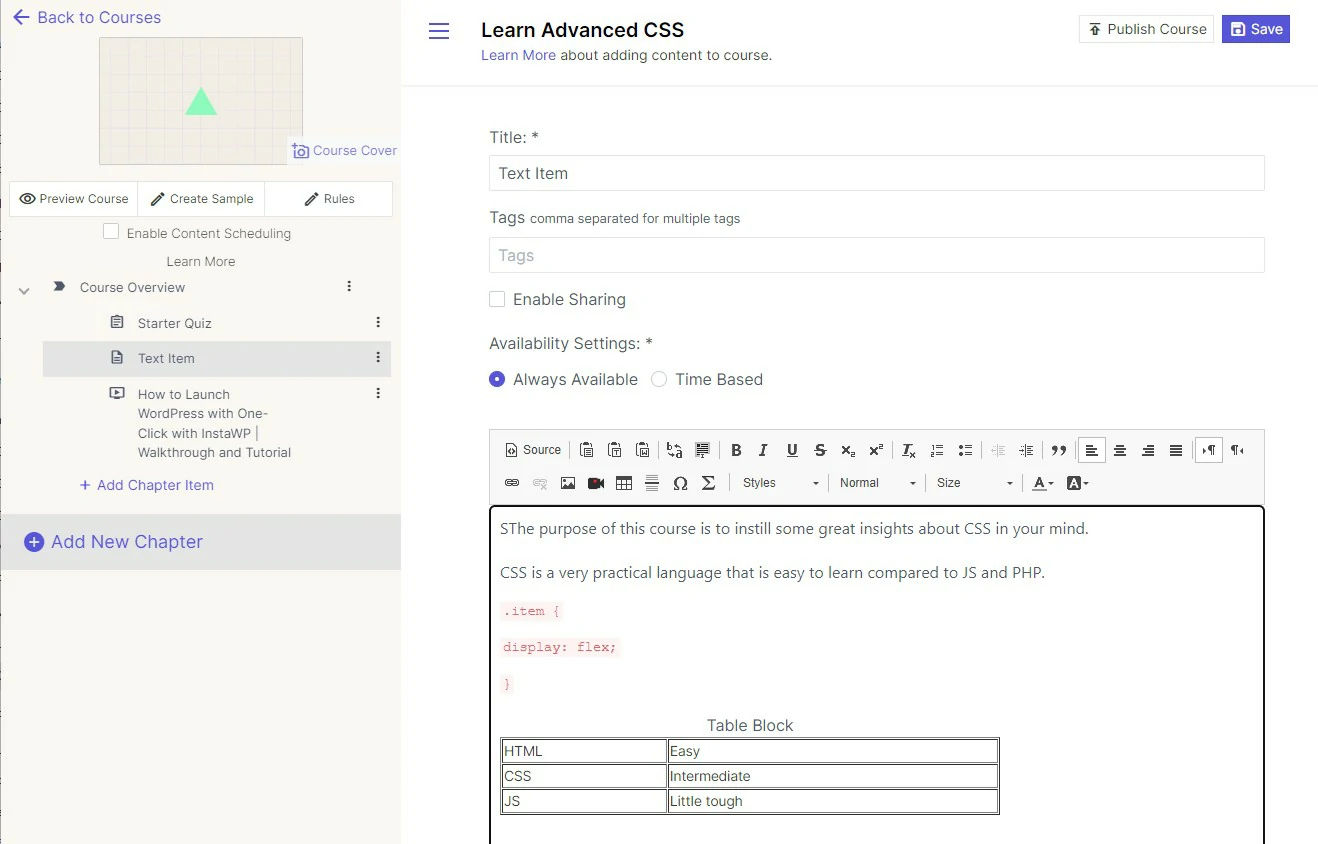 Link
To add lessons using the iframe. It only supports the external links that allow embedding.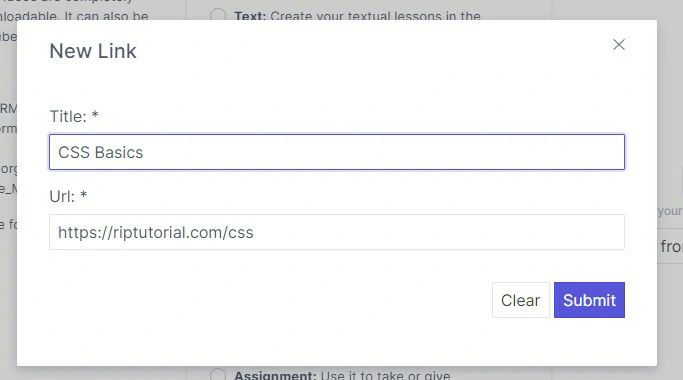 Quiz
Quizzes boost learners' motivation, and they can assess their progress. You can add interactive quizzes with time limits to keep them engaged and let them know their progress.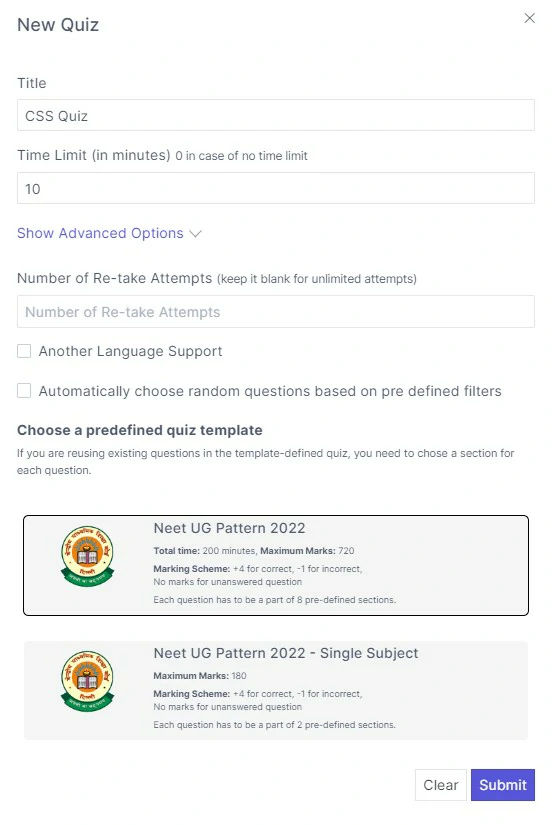 While adding a quiz, you can choose/set:
The Title of the Quiz
Instructions you want to show at the Start of the Quiz
To show or not to show the scientific calculator
number of re-take attempts
passing percentage
whether to show the rank
minimum time before submit
to arrange questions by topic
show solutions to learners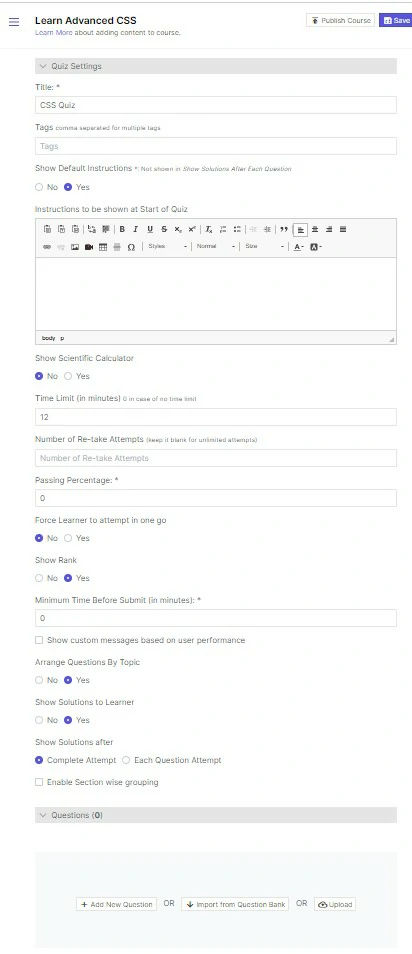 Now add the questions to make a perfect quiz for your members.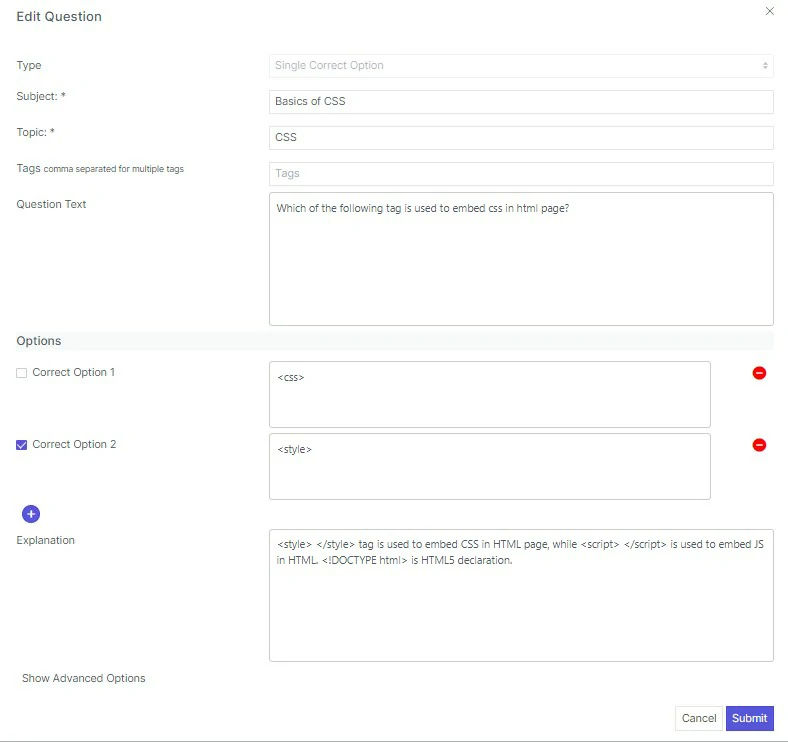 Using Proper Topics, Subjects and Tags helps you to import the questions using filters.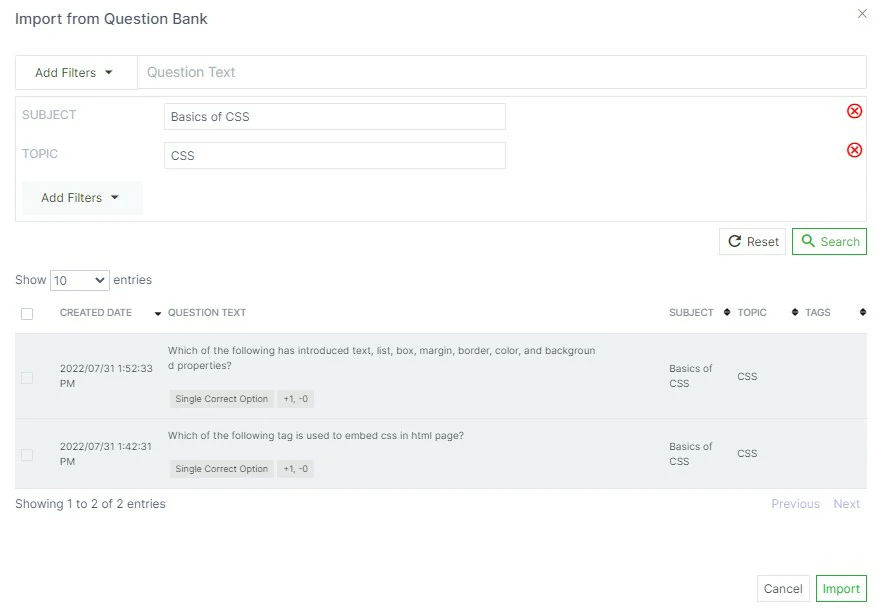 The quiz looks impressive. It shows the timer running on the top right with an option adjacent to it for full-screen mode. It also shows you the progress in real-time on the sidebar. One can also click the "Questions Paper" button to see all the questions in the popup.
Video
You can add video lessons for your members. For the video lessons, you can either upload the video, use the link of the video hosted on YouTube, Vimeo, or SproutVideo, or use the Embed Code & links. You have almost all the options to add the video lessons.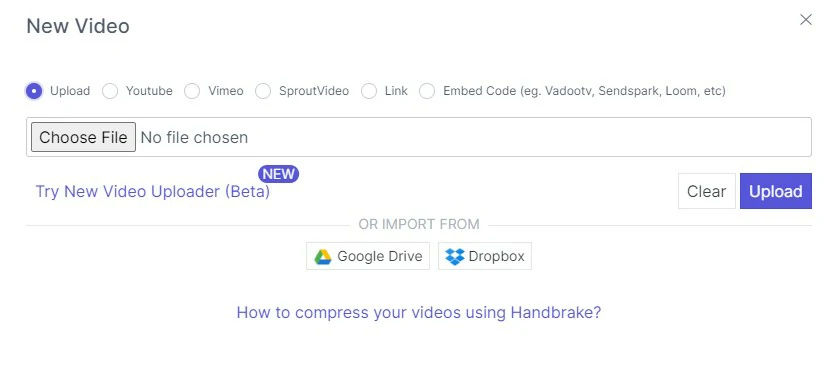 Audio
You can upload Audio files so that your members can listen and learn.
Live Test
Learners can attempt a live test created by you during the specified time window. The Leadership Board is also displayed to the learners after the result is declared.
Live Class
You can also add live classes which the members can join. This can be a zoom class, YouTube live, or something on a specific date. Members are notified via Email, Web Push, or Mobile Push.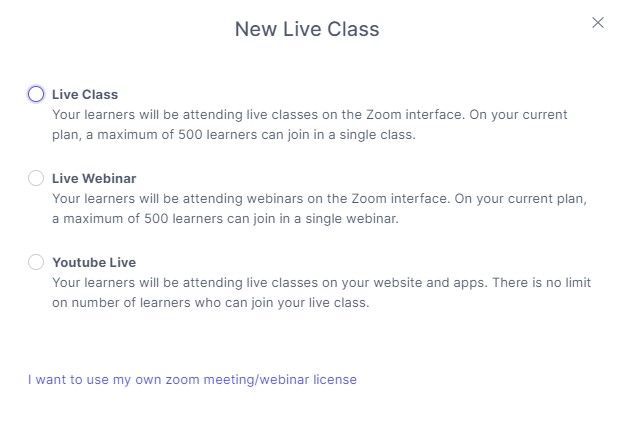 Assignment
You can allow the members to upload their assignment answers.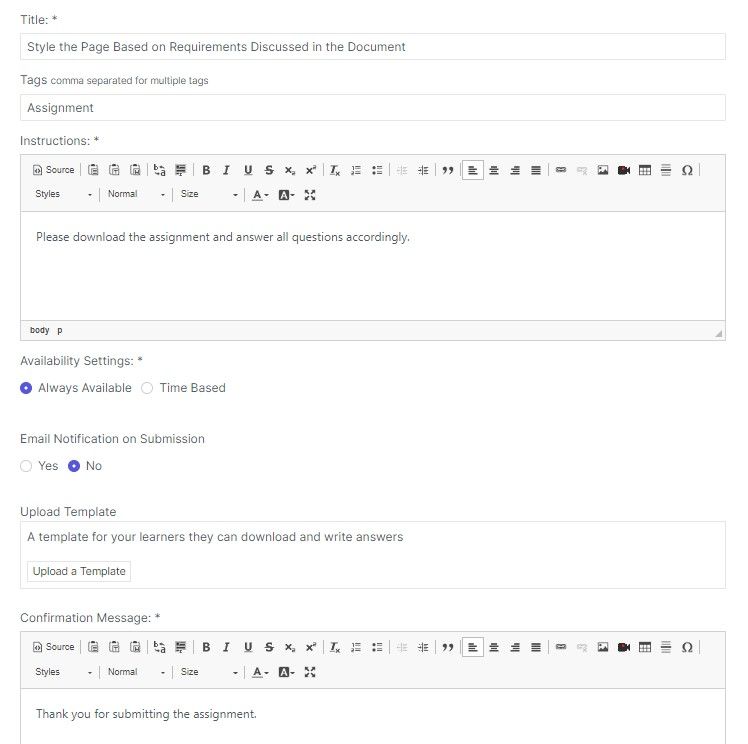 Form
You can use forms to collect any information from the learners. It is a drag-and-drop builder form where you can use any field.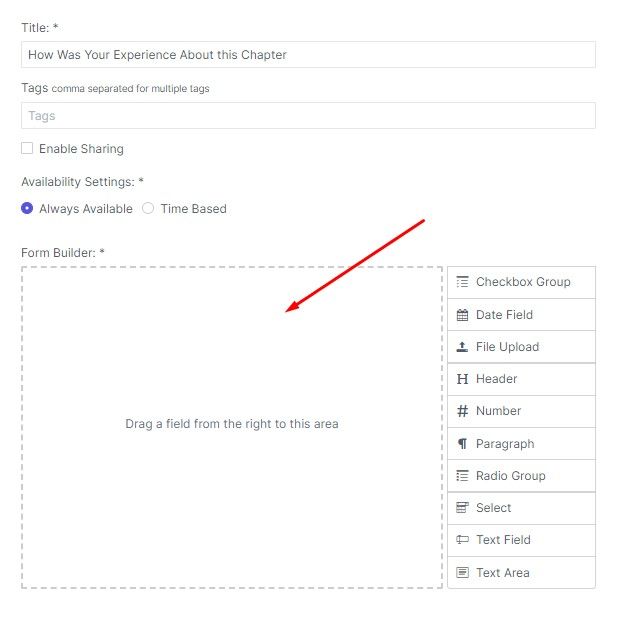 File
You can upload any file that your learners can download.
Graphy FAQs
How can you teach on Graphy?
Following these three simple steps to start teaching using Graphy
Set up an attractive website so that you can build your brand.
Organize interactive live sessions to engage the audience and expand your community.
Upload sessions and course content
Set Payment settings and integrations
Are your online video courses protected on Graphy?
Yes, Graphy offers custom technology in terms of encryption and verification to protect the videos from getting downloaded through outer sources. It includes an effective watermark while playing video content to ensure no screenshots on browsers.
Do you get the rights to your content?
Yes, you possess your uploaded content. Graphy neither utilizes your data nor shares it with others.
Is there any restriction on the number of content to upload?
If you have opted for a paid subscription, you get no restriction for uploading content. The uploaded content can be PDF, Video, PPT, Photos, Audio, Text, or Docx.
Can I Trade my courses on Graphy?
No, you get just the tools for generating, marketing, and selling your content.
Is hosting videos on another site available?
Yes, Graphy offers direct integration with various video hosting sites such as YouTube, Vimeo, SproutVideo, etc.
Graphy Pricing
10% per sale
+ 19,999 onboarding fees
It comes with the basic features, which are as follows:
Amazing templates are available with the no-code website creator
Build your Android app that includes your branding
Build your iOS app that includes your branding
Custom domain
Host and educate through endless courses
Host and educate through unlimited learners
Host up to 500 participants live using our native player by processing one session at a time
Access to endless live sessions
Provides certificates to your learners on completing their course
Add endless admins, trainers, and group members
Assign custom tasks for all team members
Accept payments with Razorpay, Stripe, or a gateway, whichever you prefer
Trade your product all over the world with country-specific pricing
Detach Graphy branding from your website through the specific option available
Access to real-time reporting to estimate your sales
Provide absolute paid memberships to your audience
Provide discounts and set up promotions on your platform
Collect detailed insights into your marketing through estimating transformation
Integrated record for Affiliate marketing
Provides live chat and email assistance
protect your platform through SSL certificates
Facilitate single sign-on for your platform
Integrations like Zapier, Pabbly, Webhooks, Zoom, Facebook pixel, Google Tag Manager, Mailchimp, API access, and more are available to activate your work activities.
Lifetime Deal on Graphy
On pitchground, a lifetime deal on Graphy is available.
Plan A (Launch)
$99/lifetime     $299/year
You can save up to 95% with this deal.
An endless number of admins, counselors, and group members
10% revenue share is available
Custom domain
It gives access to endless courses
It gives access to endless sessions
Host up to 500 participants live by processing one session at a time
Deliver certificates to your learners upon course completion
All characteristics, features, and updates are provided through Graphy's Launch Plan
Offers 60 days refund policy
Graphy Alternatives
Conclusion
So, if you have expertise in any field, you can educate others and earn money from that by creating relevant content courses and promoting them online on different sources to make sales. For all this, Graphy proves to be a suitable platform. It is best for all types of content creators to showcase their talent and make it their source of income. You can surely rely on this if you want to make your brand by listing on websites and apps so that you can reach more audiences and expand your business.
The Review

Graphy

PROS
Videos, Live classes, Audio Lessons
Create Quizzes and Assignments
Various Marketing & Sales Tools
SEO Optimized
Own your Communities
Whit labeled Mobile Applications
Secure Platform
Integrate Payment Gateway and Collect Payments
Host immersive live sessions
Host on a Custom Domain
Review Breakdown
Easy To Use


0%

Features


0%

Value For Money


0%

Integrations


0%

Support


0%

Brand Trust


0%