We use affiliate links. If you buy something through the links on this page, we may earn a commission at no cost to you. Learn more.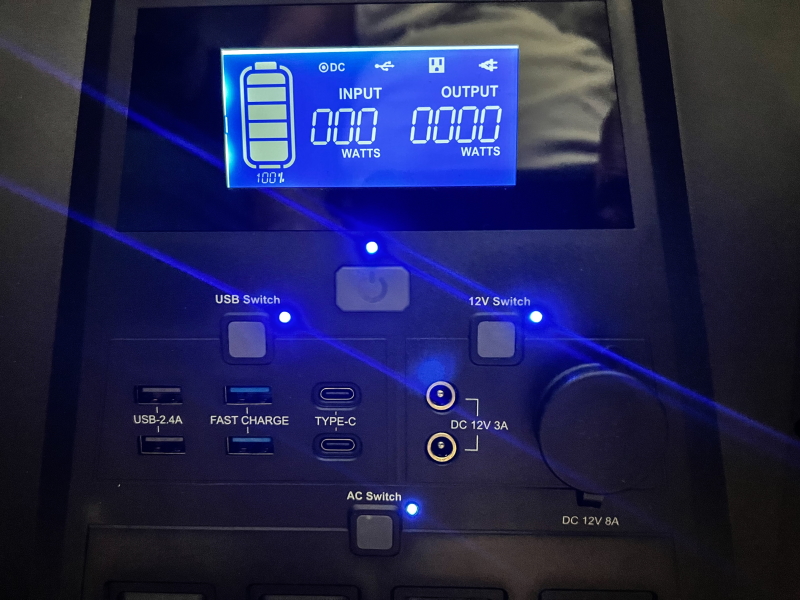 REVIEW – For the past few months I have been working on a solution to create backup power for my home studio and the ability to eventually power it completely off the grid. My design includes a couple of Power Stations with a minimum power output capacity of 2000 watts and enough AC and USB ports for my equipment. I also need them to be able to be recharged via solar panels. This LEOCH Portable Power Station seems like it can meet my design specs. Let's see!!
What is it?
The LEOCH Portable Power Station is a 2000W 2048Wh Solar Generator with 900W Max Input Power and a 3000+ Cycles Backup Battery Pack with 4 2000W AC Outlets (4000W Peak) and a variety of other ports to meet just about any power household indoor/outdoor requirement.
What's in the box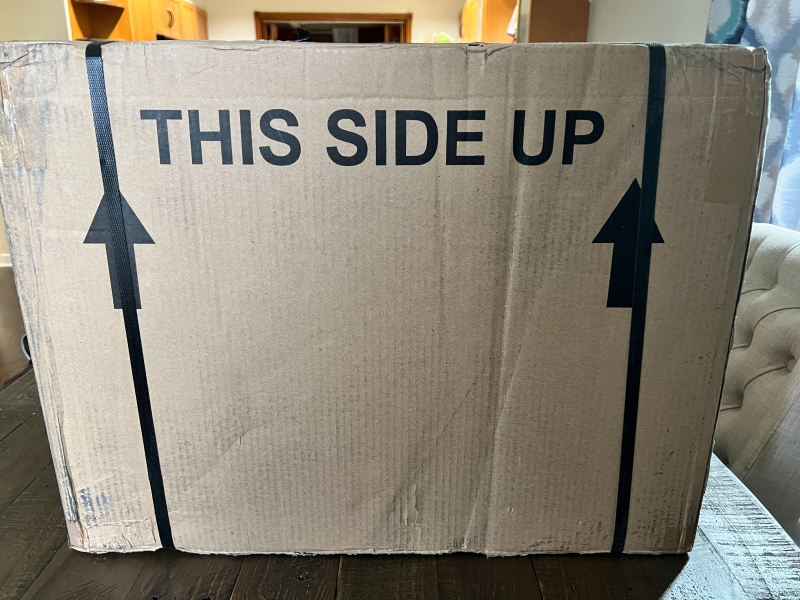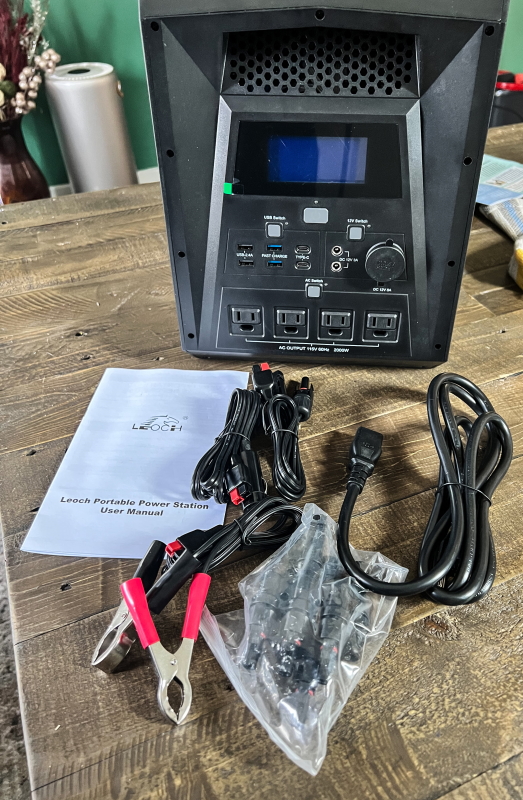 1 x LEOCH Portable Power Station
1 x AC charging cable
1 x Alligator clips cable
1 x Car charging cable
1 x Anderson to MC4 cable
2 x MC4 parallel connector
1 x User manual
Design and features
Features
[Amazing Powerful Capacity]: 4 × 2000W AC OUTPUTS: The portable power station MAXIMUM output can be connected to A TOTAL OF 2000W appliances simultaneously
[LEOCH Solar generator Power 13 Devices Simultaneously]: 2 × 12W USB Type-A ports, 2 × 18W USB type-A ports (fast charging), 2 × 65W PD USB Type-C ports, 2 × 36W DC outputs, 4 × 2000W AC wall outlets (Max 4000W), and 1 × 96W car charging outlet
[Fantastic Versatility for your needs]: LEOCH LiFePO4 power station keeps devices running from household appliances to workshop tools and vital equipment, like an electric car, fridge, window air conditioner, hairdryers, microwave oven, coffee maker(Max 2000W), heater, electric grill, drill, etc
[Portable Wheels Design]: LEOCH solar power station is equipped with 2 WHEELS, which makes it even more portable and it also provides a higher than average capacity of power for its size
[One of the safest power stations]: LEOCH rechargeable generator is equipped with the latest LiFePO4 battery that can up to 3000+ LIFE CYCLES, along with its state-of-the-art BMS which can protect all the cells
[What You Can Get]: Leoch 2000w Portable Power Station (PowerHouse 2048Wh), 2 MC4 parallel connectors, AC charging cable, car charging cable, Alligator clips cable, Anderson to MC4 cable, User manual, our worry-free 24-month warranty, and friendly customer service



Specifications


The outer shell of this power station is made of plastic/ABS with vents in the front and the back. On the front, there is the LED Screen, power buttons, and all of the power supply/charging ports. On the back, there is the AC port, AC wall charger port, solar panel port, and fuse. On the lower rear, there are 2 wheels, and on the top, there is a storage compartment for the cables and manual, etc.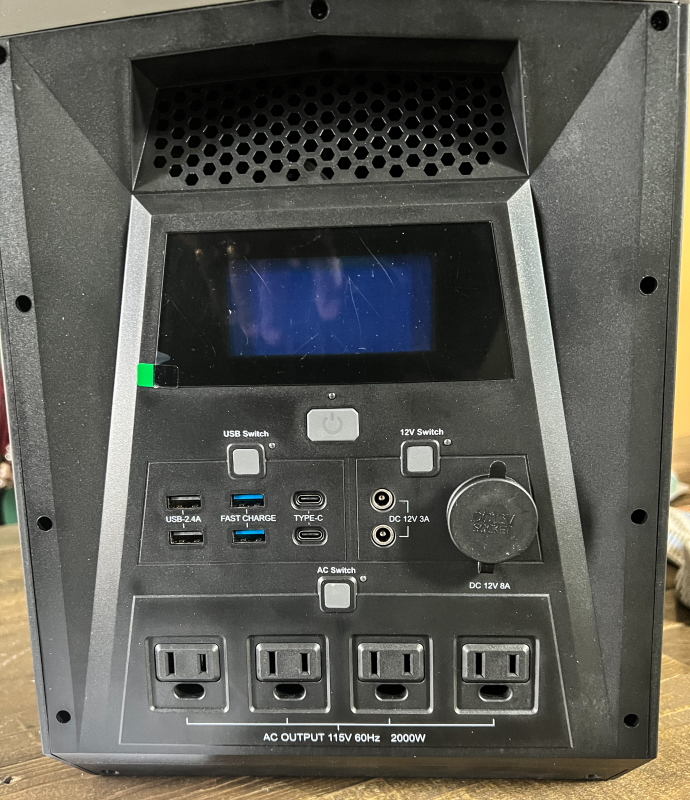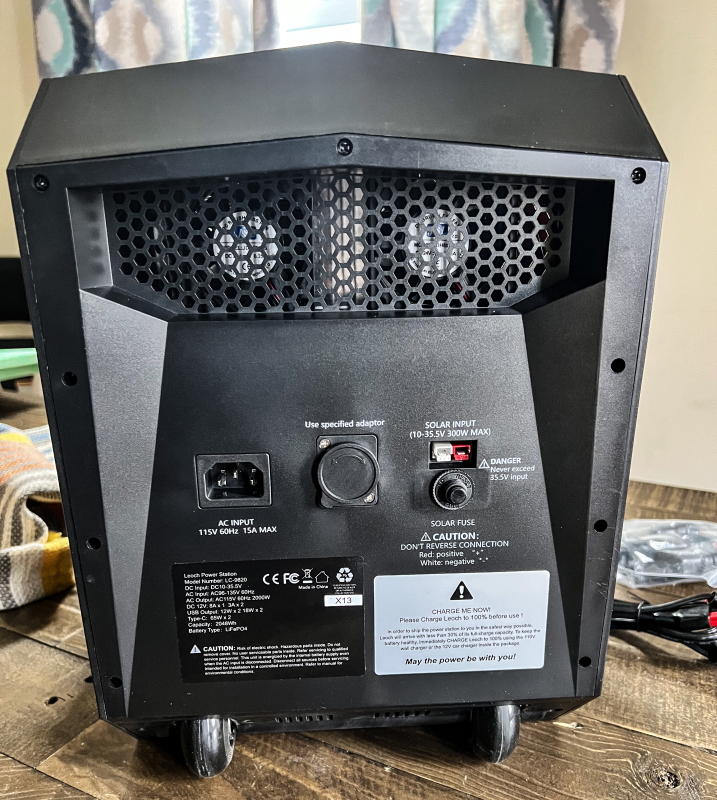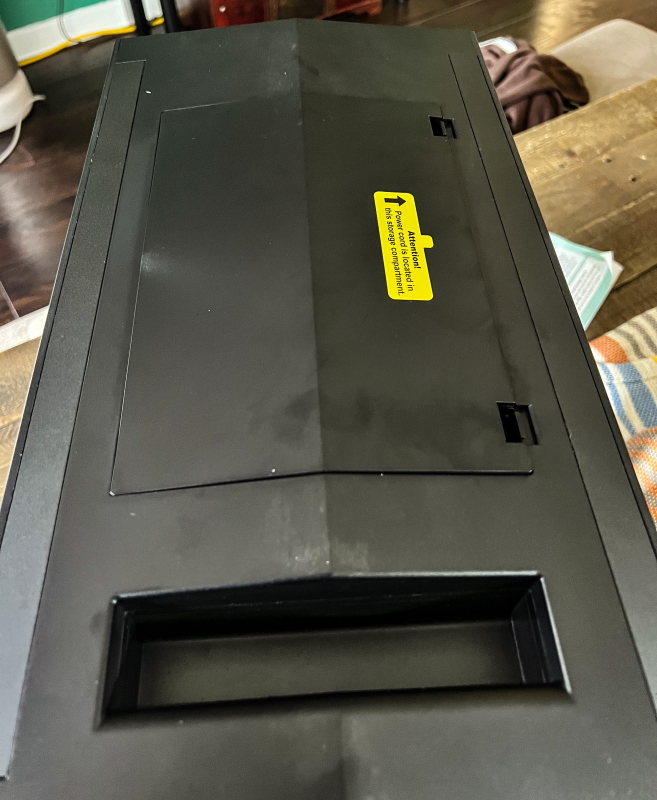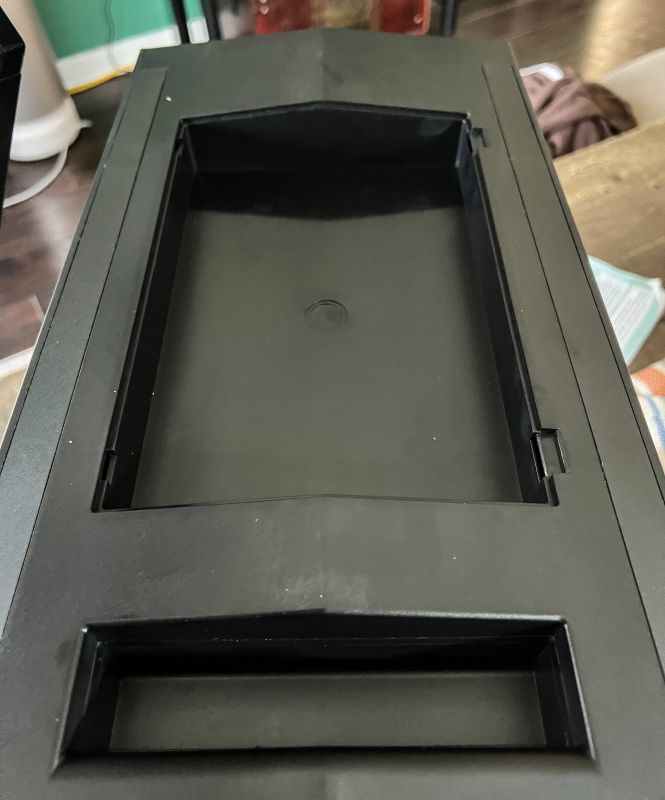 Performance
The cords store well at the top of the LEOCH Portable Power Station. This is a great feature because I have encountered issues finding the correct power cord for gear at times. (I have a lot of gear and a lot of power cords). Once this power station is plugged in it starts to charge.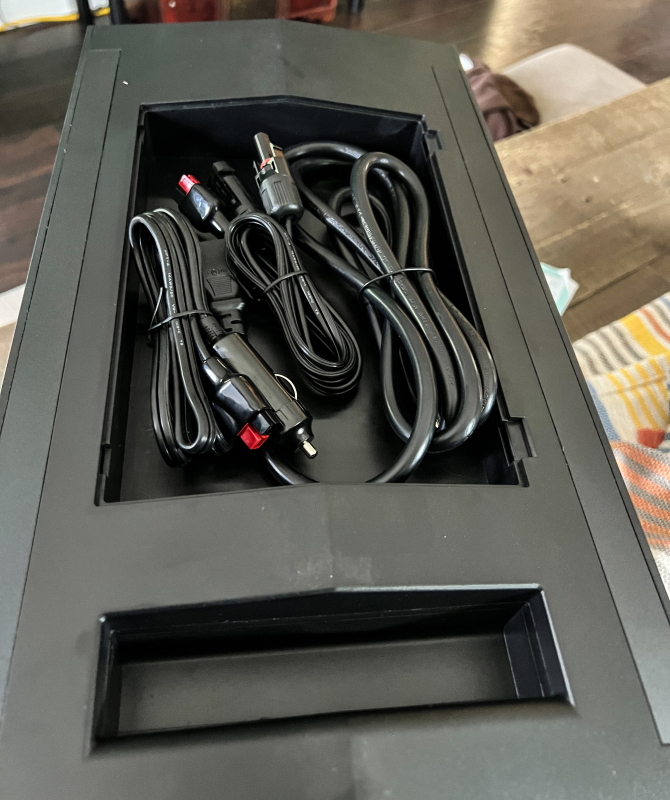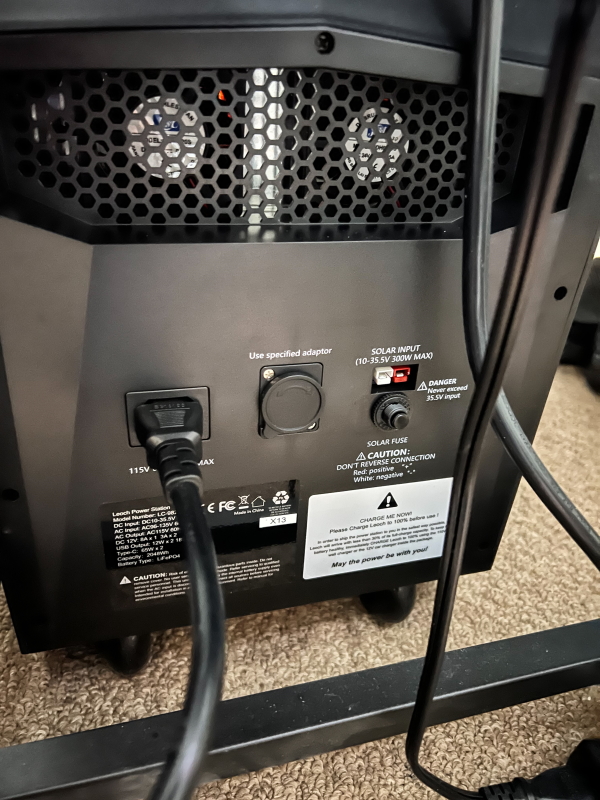 When I received the unit it was almost fully charged so as of now I do not know how long it would take to charge it from empty. A fantastic feature is the ability to charge the LEOCH Portable Power Station with 3 inputs (AC power cord, AC wall charger, solar panel) simultaneously making the charge time from empty to full in approximately 2.5 hours (as per Leoch).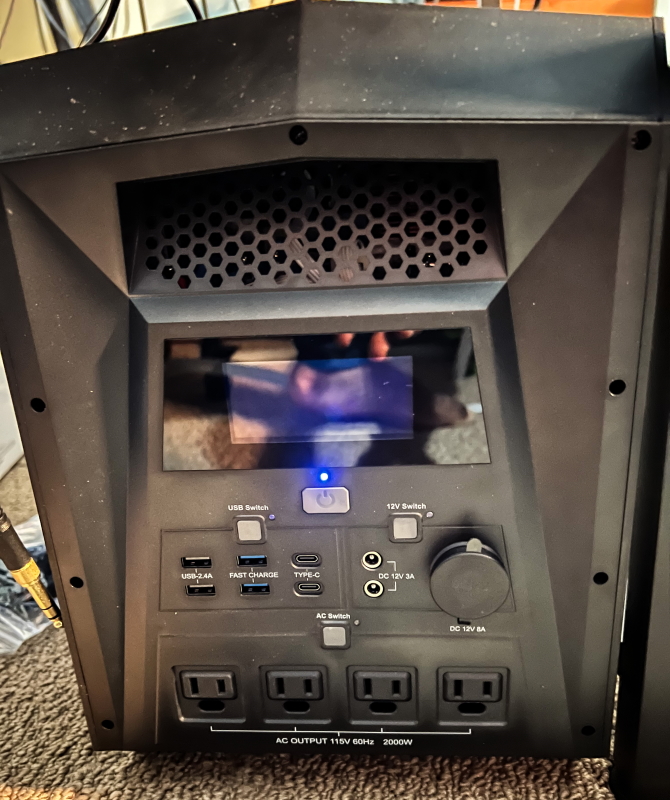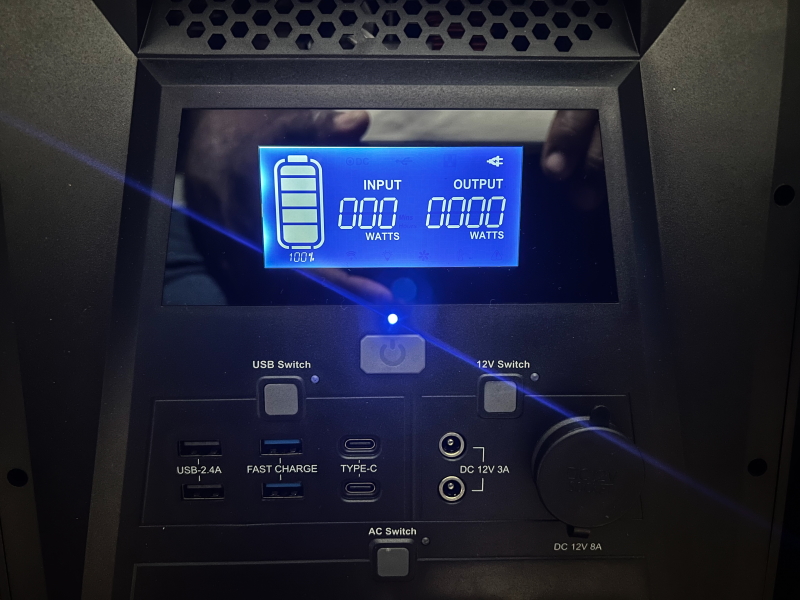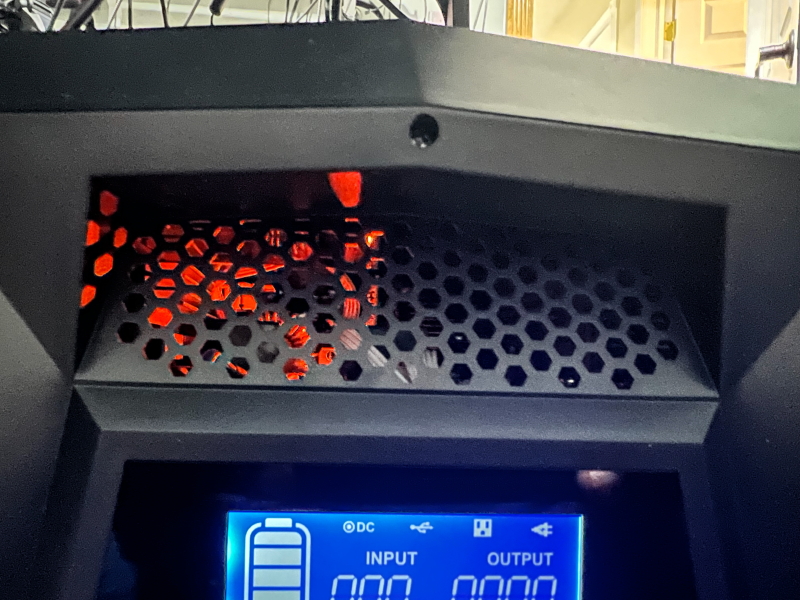 The LED screen is bright and clear, and there are power buttons for each type of device connection. There is even an internal red LED in the case. On the back of the unit, there are 2 fans, and judging from the size of this behemoth, they are a mandatory requirement. I started but powering my Atomos video recorder, Video camera, video switcher, broadcast board, and laptop into it. It handled them like they were not even connected. No stress at all. It was somewhat difficult to really stress this power station with heavy-duty appliances that require a lot of power because it is heavy and big to lug around.
When charging/powering, this unit has LEDs on either side that provide a nice light show that Leoch calls a breathing light. These lights can be turned off if so desired. Here is an example:
Since it is my intention to eventually power all of the equipment in my home studio via 2 x 2000W Power Stations, I tested this by connecting all of the equipment seen in the video below. As you will see, I also connected my coffee maker and I did so because this appliance has an additional brewing control that requires a lot of power as it goes through its stages. With the studio equipment attached, the load on the Power Station was minimal. Once I attached the coffee maker there was a surge of approximately 1030 watts. The Power Station handled it with ease. See the video and photo below: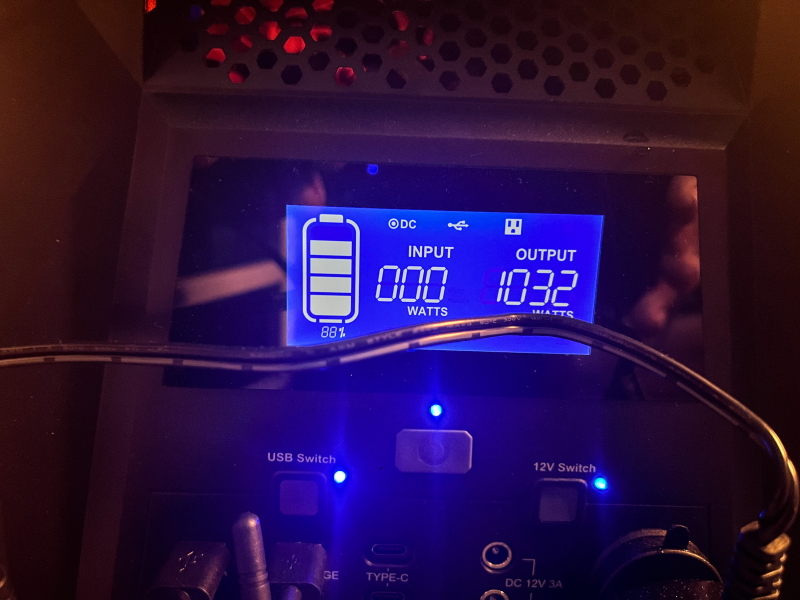 Overall, the LEOCH Portable Power Station is a great power station for my planned off-the-grid studio. One might wonder why I am choosing to do this so let me briefly explain. Although I have a household solar system with a backup battery when the power goes out the automatic transfer still causes a glitch with some of my equipment. This happened a couple of times while I was recording a podcast and in addition to causing some gear to reboot, it disconnected my call-in guest. So, I have decided that when I record, I will do so via power from two 2000-watt power stations, especially during hurricane season. To complete my dream, Leoch has promised to send two solar panels that I will review and will make it a "true" off-the-grid system. This power station offers just about every type of port I need and multiple AC outlets. it simply works for me. I will be testing the Leoch with more equipment when I can. It is very capable but it is truly heavy. Here is a video from the manufacturer:
What I like
The incredible build quality
The ability to recharge the unit via 3 power sources simultaneously
The number and variety of ports
The power rating
The charging options
The built-in wheels are especially needed because of the weight
What I'd change
It needs to come with a hand truck!! LOL
Final thoughts
Simply put, the LEOCH Portable Power Station is a beast in size, weight, and power. It is considered mobile because it has wheels, but this is not a piece of equipment that you would take to the beach. However, it is gear that you would use to power an entire RV or in my case an entire mini TV studio. If you make the mistake while rolling it and you drop it on your foot, you will probably be a guest of some Emergency Room. It has an adequate number and variety of ports and while I have not been able to get my hands on solar panels for it as yet, doing so would allow me to take my entire studio off the grid. Other than the challenges with its serious weight and size, I give it a very well done and two thumbs up!!
Price: $1499.99 ($200 coupon currently available on Amazon)
Where to buy: Amazon
Source: The sample for this review was provided by LEOCH.