We use affiliate links. If you buy something through the links on this page, we may earn a commission at no cost to you. Learn more.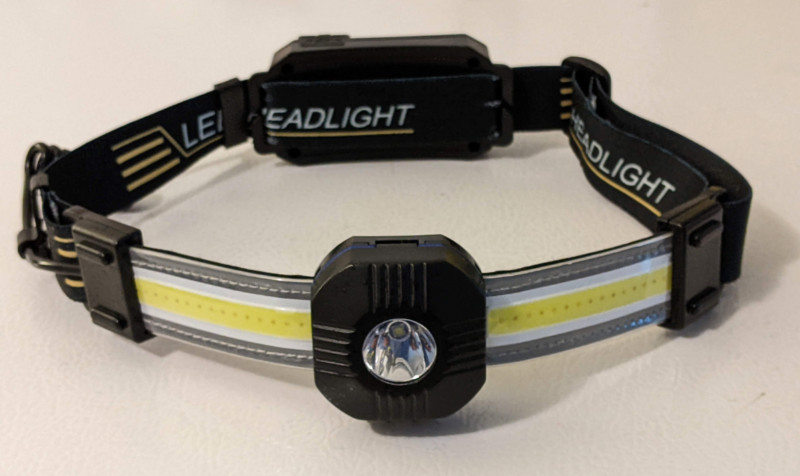 REVIEW – Do you need a headlamp that offers 'you see me' or even brighter, 'I see you' lighting? Bike riders use those terms for bike lights. The HAOYISHU Headlamp Flashlight is a headlamp that does both. It offers daytime brightness if you need it. The light has 10 steady and flashing modes and sells for under twenty bucks. How'd it do in testing? The front light is where it really shines. Yes.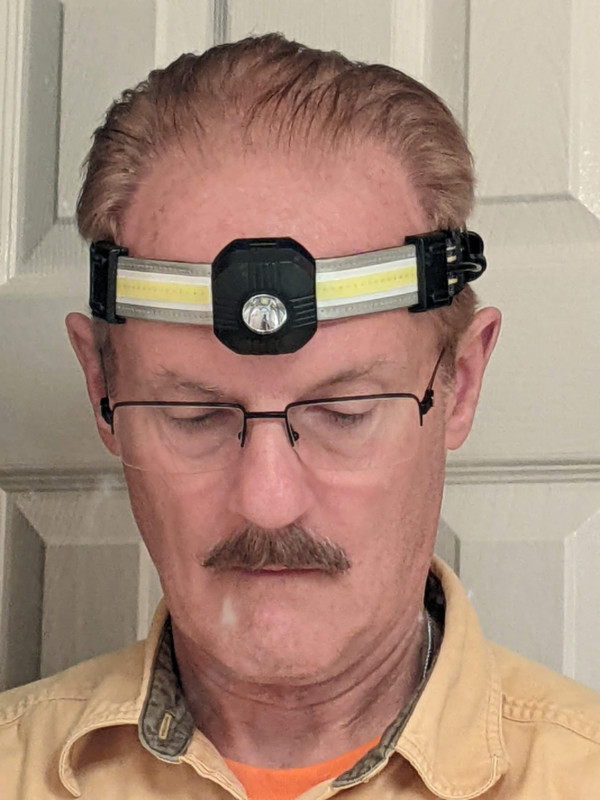 What is it
The HAOYISHU Headlamp is a lightweight, rechargeable headlamp with a variety of lighting and brightness modes.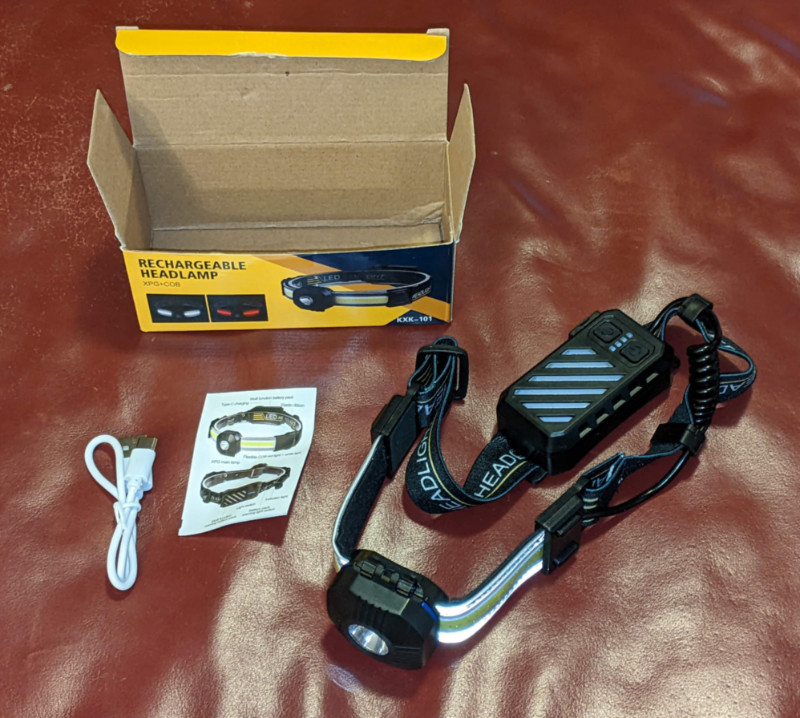 What's in the box
Headlamp

USB-C charging cable, 11.875" length

Instruction sheet
Hardware specs
1200 lumen main front LED

1200mAh rechargeable lithium-ion battery

4-8 hour run time depending on mode

Main front LED adjustable angle

IPX4 rated (protects from splashing water)

Weight: 4.4 oz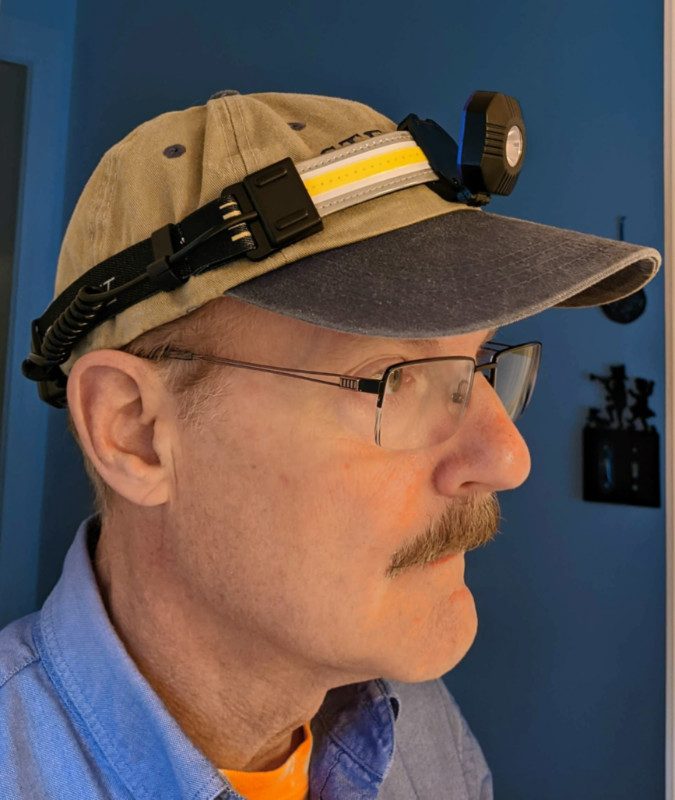 Design and features
10 lighting modes

230 degree light beam

90 degree adjustment on main front LED module

Blue LEDs on battery module indicate charge progress and power remaining

Modes:

Main front bright white spotlight

White front 'strip' LEDs, spotlight off

All bright white front lights

Lower beam all front white lights 

All front white lights flashing, bright mode

Steady front red strip LEDs

Flashing red front strip LEDs

Rear red LEDs on steady

Rear white LEDs on steady

Alternating red and white rear LEDs flashing
Installation and setup
The unit had level 3 of 4 charge when it arrived. A forty minute charge brought the headlamp up to full capacity. The instruction sheet is not really required. By pushing the buttons on the back-facing LED/battery module one can cycle through the various lighting modes.
Testing and observations
FIT
The HAOYISHU Headlamp is comfortable to wear. It was secure and never shifted position when I took long walks or did tasks for which I needed to do lots of head movement.
BRIGHTNESS
We've reviewed some fire-starting-bright flashlights at The Gadgeteer. Some of those lights could ignite paper with their turbo beams! That won't be a problem with the HAOYISHU Headlamp. Even at its bright mode there's no concerning heat buildup at the light lens or the front assembly. But it's plenty bright. You just won't sunburn your forehead with it. 
You've seen flashing police lights on TV. The human eye sees it better than a camera does. The videos above are mainly to show the flash patterns. 
The red front and rear LEDs will be visible at night, but are not 'daytime bright' like the front white flash mode is. The front red LEDs and the rear red/white LEDs are not as bright as some high quality bike tail lights, but would be useful for safe night walking in a neighborhood with traffic. 
BEAM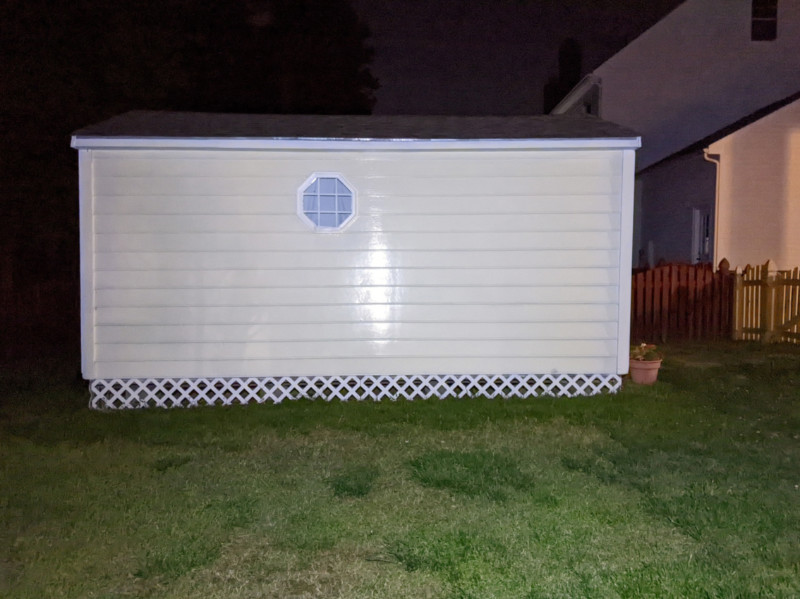 This is the bright mode that illuminates the main forward beam and the strip white LEDs.  I'm 20 feet from the wall in each of the shed shots.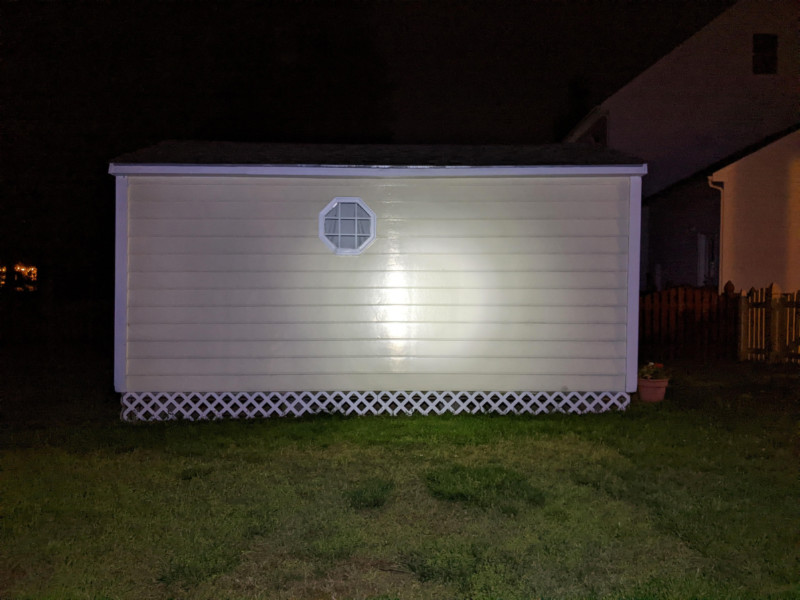 This is the main front LED only, on bright.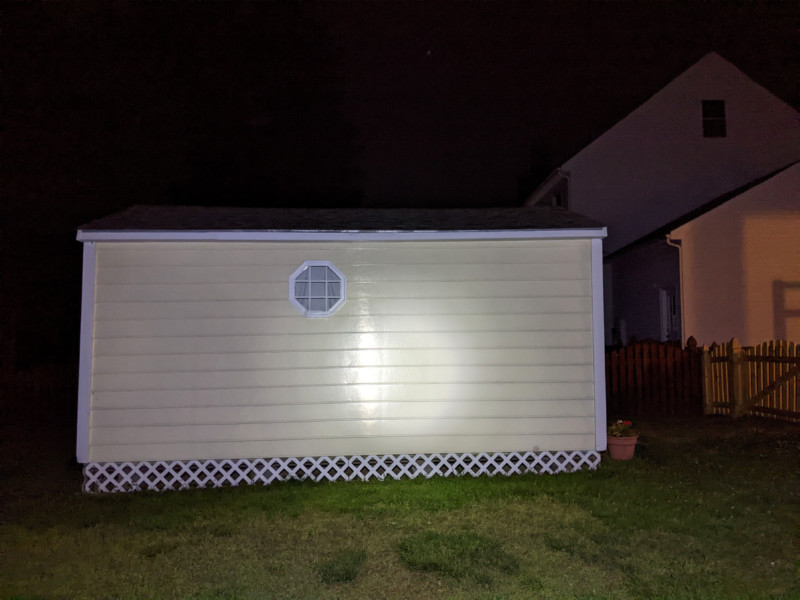 Here's the low beam, which also activates the white strip LEDs.
The main front beam is primarily spotlight style vs. floodlight style. There is good, useful 'spill' outside of where the main beam projects but I turned my head to put the main beam on objects ahead when I took walks on neighborhood streets at night. There is plenty of spill to show you where to plant your feet as you walk or to see dogs running towards me from their yards. Yikes.
VISIBILITY TO OTHERS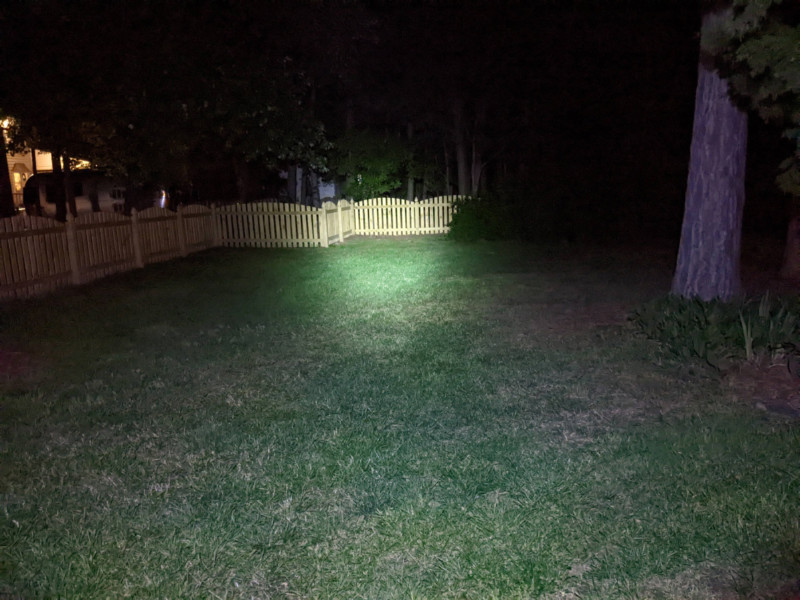 The fence is about 60 feet away. 
The HAOYISHU Headlamp's first mode is the high brightness, via the main front-facing LED lamp. It is bright enough to illuminate many feet ahead on a roadway or across a field. 
The front white flashing mode is bright enough to be seen by oncoming traffic even in daytime. I wish I could attach my HAOYISHU headlamp to my bike helmet but the front of the helmet slopes too much for the light to hold on securely. A no-brim helmet style, or a skateboarder's helmet may be able to accommodate the HAOYISHU Headlamp. 
LIGHTING FOR TASKS
There are some tasks that don't require bright light. I found the strip LEDs sufficient for several tasks and if the headlamp had an even lower light mode it would be useful in some settings. As a glasses wearer, there was some irritating light spill into my glasses when using the white front strip LEDs. This was solved by moving the headlamp further up my forehead.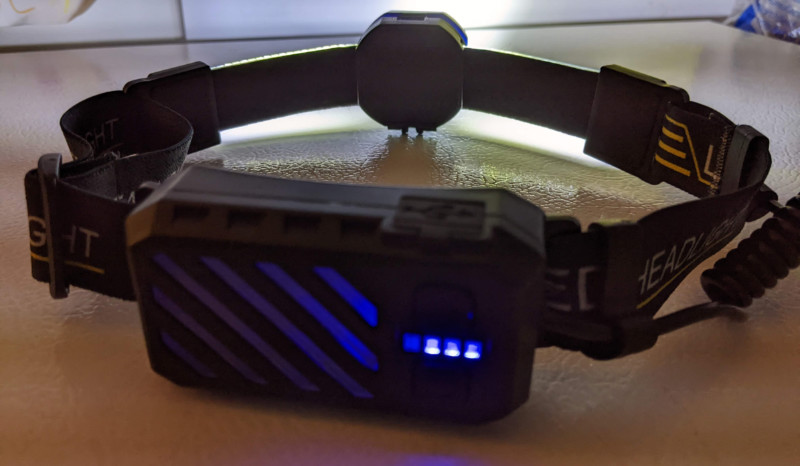 Note the charge indicator LEDs.
What I like
Nice variety of lighting modes

Great high brightness

Great front flash brightness. 

Great price vs. features
What I'd change
A very low light mode could be useful for situations when low light is most useful.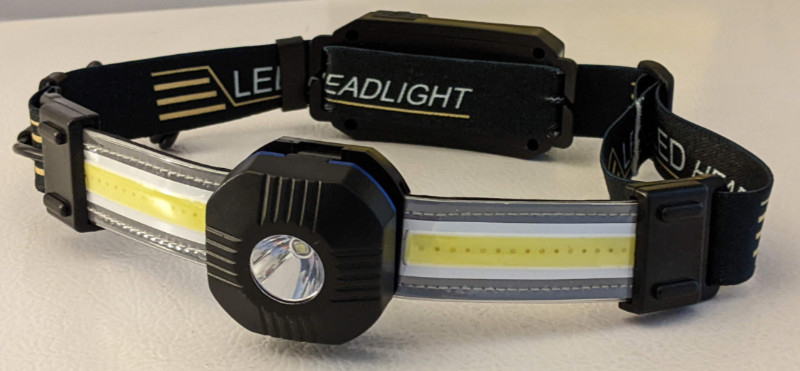 Final thoughts
The HAOYISHU Headlamp is a versatile task or safety headlamp. Its variety of lighting modes and brightness levels, plus the rear-facing safety LEDs make it a great choice for work, recreation, or both. 
Price: $16.98
Where to buy: Amazon
Source: The sample for this review was provided by HAOYISHU.